ALEXANDRIA THE GREAT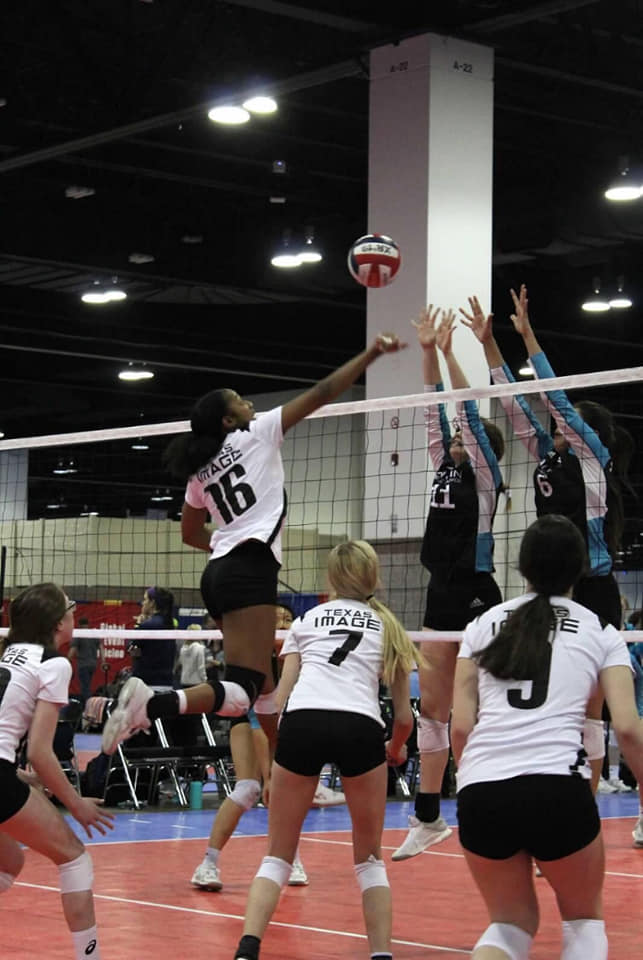 DALLAS — Back in mid-September, Priscilla McKnight Randle took to her Facebook page, where she staged to her timeline a rather spirited announcement concerning her student athlete daughter.
Said Randle before her 500-plus social media followers: "Look who got a banner!!!
#FreshmanonVarsity
#proudmom
#LadyKats.
The banner to which Randle is alluding is a massive image that's draped on the wall — or perhaps, in the rafters — somewhere inside of Kennedale (Texas) High School, bearing a full body shot of her daughter, Alexandria Youngblood, a true freshman for the Lady Wildcats' volleyball team.
"We got her started with volleyball as a way to help keep her active and to structure the extra energy she has," Randle told Making Headline News this week.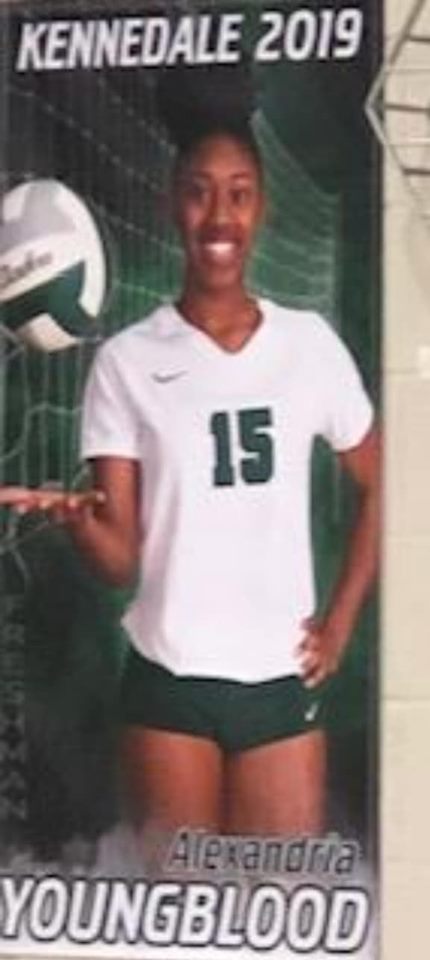 As it turned out, volleyball essentially has become an integral part of Youngblood's young life, considering she has made considerable strides in the sport in recent years.
That's because not only has Youngblood helped propel Kennedale's varsity squad to a 23-7 record as of October 4, according to Maxpreps.com, but this freshman sensation has become a catalyst on the amateur circuit as a member of a Dallas/Fort Worth-area club team that's sanctioned by USA Junior Volleyball.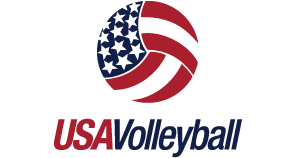 A non-profit organization, USA Junior Volleyball is recognized as the national governing body of volleyball in the United States by the Fédération Internationale de Volleyball and the United States Olympic Committee, according to a detailed introduction at  https://www.teamusa.org/usa-volleyball/about-us.
While she's just 14 years of age, many whom have followed Youngblood's progress suggest that she's handled the maturation process in the sport with ease.
---
"I would say that my level of play has definitely grown over this season," Youngblood said. "Playing with varsity has given me the opportunity to see more competitive games. It's definitely getting me ready for the club season."
---
To her credit, it would be appropriate to describe Youngblood as a rare gem on the volleyball court.
Amongst the reasons is that not only is Youngblood one of Kennedale's most physical and versatile players, considering she plays both middle and outside hitter, but her overall body of work is predicated largely on her passion for the game.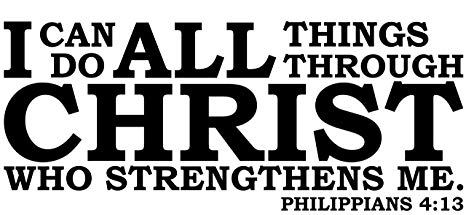 Such a trend, as a result, has given way to her having put her immeasurable gifts on display in camps at SMU, Texas A&M, Southern Cal, the University of Houston, the University of Texas at Arlington, and Texas A&M at Corpus Christi.
All of which practically sums up why the sky undoubtedly is the limit for a true freshman who has so much prep volleyball ahead of her.
"We signed her up for a pre-club team when she was 10, and she joined a club team the next year at 11 years old," Randle said.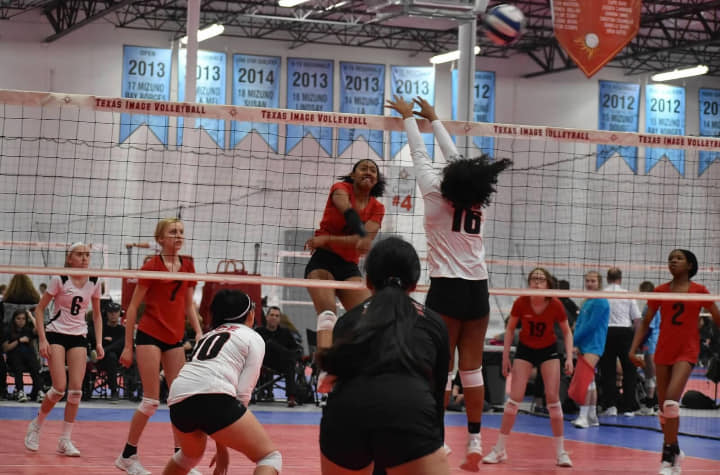 Randle's daughter hasn't looked back since, having blossomed immensely throughout a volleyball stint that spans four years.
And counting.
"Alexandria has been blessed with natural athletic ability," Randle, a DFW-area high school English teacher, said of her daughter. "She has great court awareness and is a joy to watch. She typically catches on pretty quickly to anything she sets her mind to do…be it academics or sports."
And, of course, her faith walk which, according to her mother, has contributed mightily to Youngblood's sustained success on and off the court.
---
WILDCAT FORMATION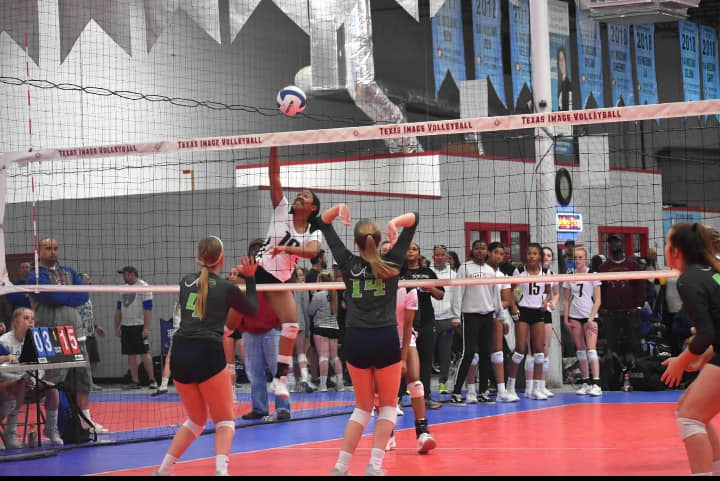 "A couple of years ago, one of the elders of our church gave her a scripture to mediate on and told her to repeat it to herself every day," said Randle, referring to Philippians 4:13. "I can do all things through Christ Who gives me strength."  This is why the sky is the limit for Alexandria. She is God's daughter, and she can do all things through Him."
With three more full seasons of prep volleyball in front of her, the possibility exist that college scouts and recruiters will eventually commence to expressing interest in Youngblood's services, given she essentially plays the sport year round.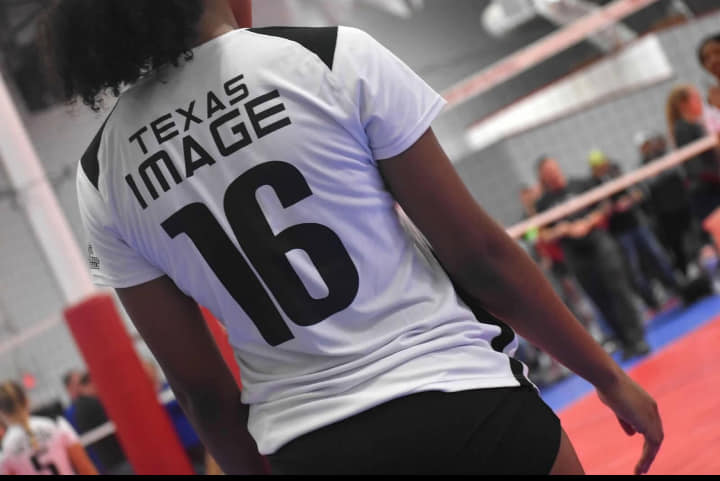 Hopefully they will come calling much sooner than later, Youngblood hinted.
"They will receive a player who loves volleyball with all her heart, (who's) a hard worker, and a great competitor who is always trying to improve the game," said Youngblood, when asked what type of player would a college inherit. "College volleyball is a dream of mine, because I will be playing at a higher level and I will be a couple of steps away from playing professionally. Also, the coaches and their knowledge of the game will help me grow as a player."
A player who's destined to make certain her full body shot image is erected on a banner at the collegiate level some four years from now.
So far, so good.
---
CONNECT WITH THIS AWARD-WINNING JOURNALIST FOR MEDIA EXPOSURE
EDITOR'S NOTE: If you are an entrepreneur, business owner, producer, author, athlete, musician, barber, life coach, motivational speaker, cosmetologist, tax preparer, model, or pastor/minister who is seeking exposure and would like to share your story with an in-depth news feature, call Reporter Andre Johnson at 901-690-6587 or Facebook message him under "Andre T. Johnson" for details.
Andre Johnson is the award-winning Founder and Publisher for Making Headline News. A 2000 graduate of the University of Memphis School of Journalism and a former staff reporter of sports for the Memphis Commercial Appeal newspaper, Johnson covers the NBA Southwest Division from Dallas, Texas. To reach Johnson, send email to makingheadlinenews@gmail.com or to memphisgraduate@yahoo.com. Also, follow him on Twitter @AJ_Journalist.