Kenyatta Bell is destined to exemplify some agape love this Valentine's Day weekend.
A longtime Atlanta-area businesswoman, Bell will be hosting what is known as The Epic Experience, a two-day empowerment event that will take place February 14-15 at the Allen Entrepreneur Institute, located at 3235 Evans Mill Road in nearby Lithonia, Georgia.
Powered by the Epic Management Group, The Epic Experience will commence with the She Matters: Valentine's Edition, which is also known as The Ladies Empowerment Staycation. This two-day event will be feature two speakers: Radio host Jason Madison of LATC and author Leon Walker.
The Epic Experience will culminate with a formal event known as A Night Of Purpose during which the feature event will be the official announcement of Bell having been named Making Headline News Woman of The Year for 2019.
---
LOVE'S IN THE AIR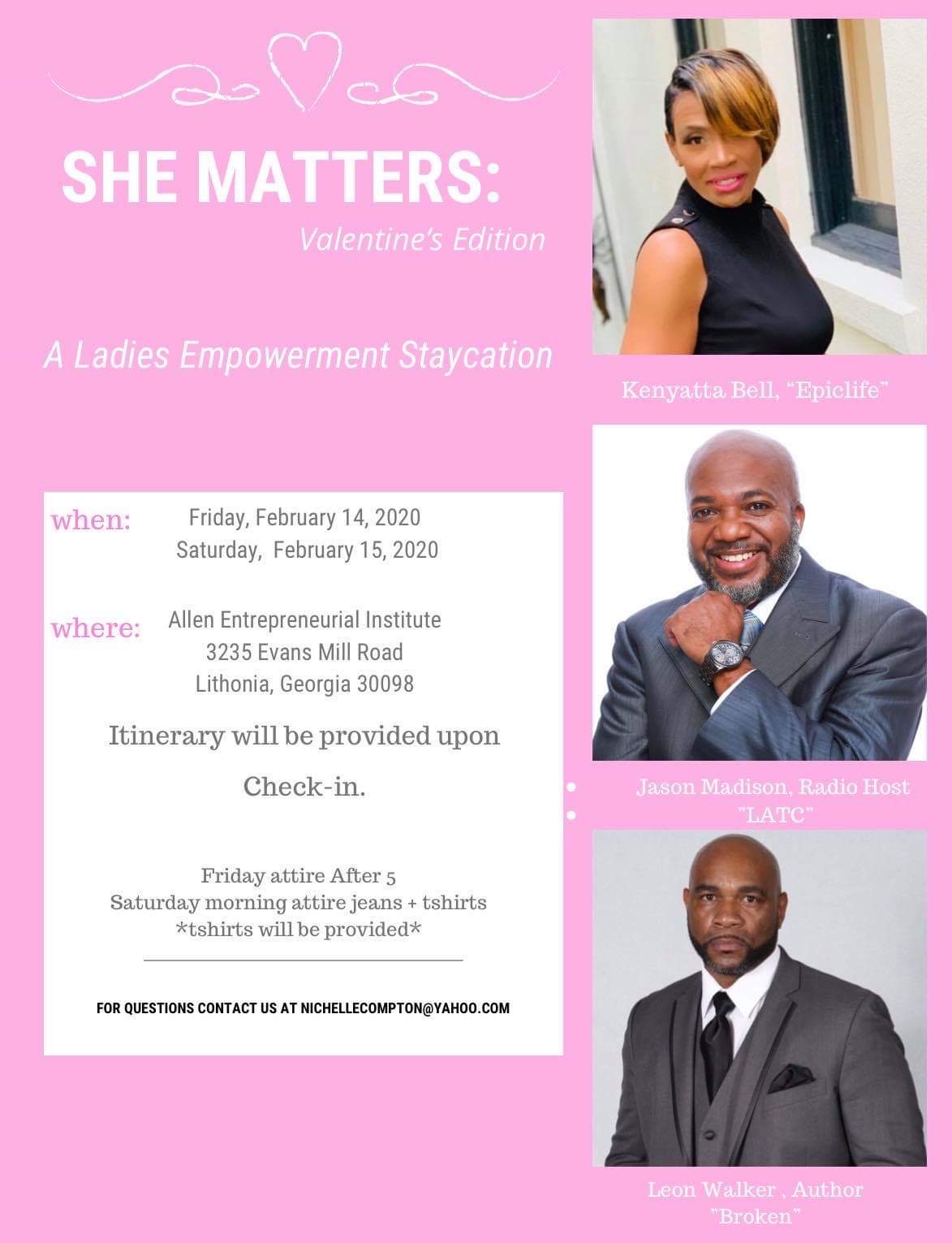 Also, A Night Of Purpose will include the official book launch of Kambria Hardnett's "Matters of HER: A Millenial's Faith Building Process."
A University of West Georgia student, Hardnett is the daughter of Bell.
A book that is comprised of just five chapters — with the No. 5 signifying the spiritual number for the term, "grace," this writer acknowledged —- Hardnett's "Matters of HER" is spearheaded by the familiar Biblical passage that is Ephesians 2:8, which addresses the subject of faith in great detail.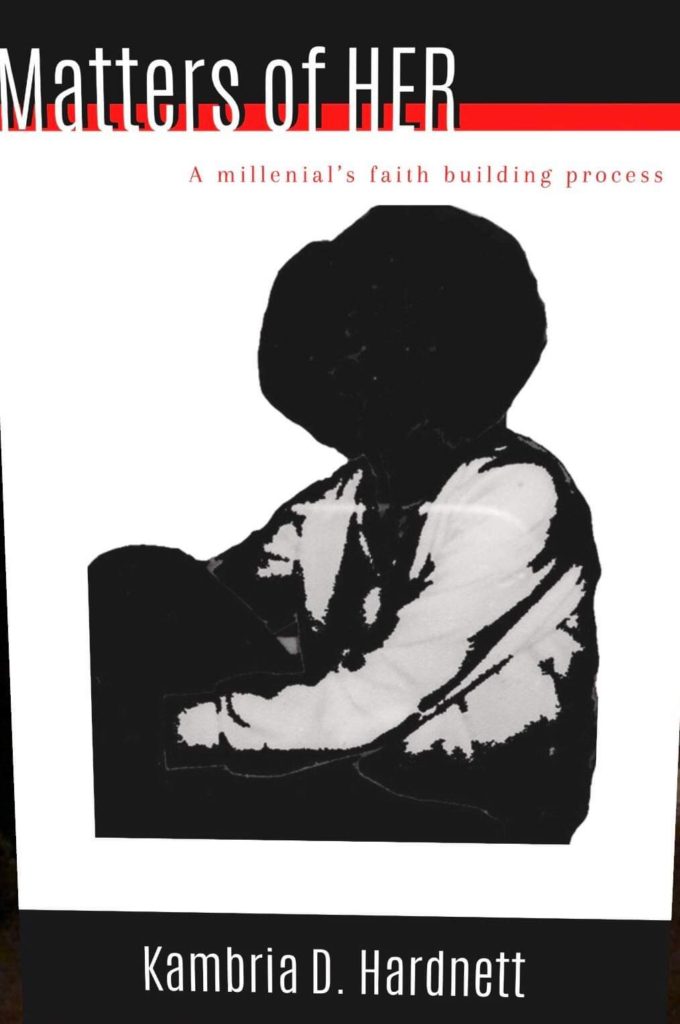 "This book saved my life," Hardnett, during an August 2019 interview with Making Headline News, said of a book that was written by the Apostle Paul. "It saved me spiritually, and I only pray that it does the same for someone else."
A Night Of Purpose will also feature special guest saxophonist Antonio Allen.
---
"I want to encourage, empower, inspire, and love on my single sisters," Bell said of her staycation event that is an invitation only affair. "I want women to be treated like the Queens and experience an amazing, life-changing weekend whereby we ignite  their true identity in a Christ and empower their purpose."
---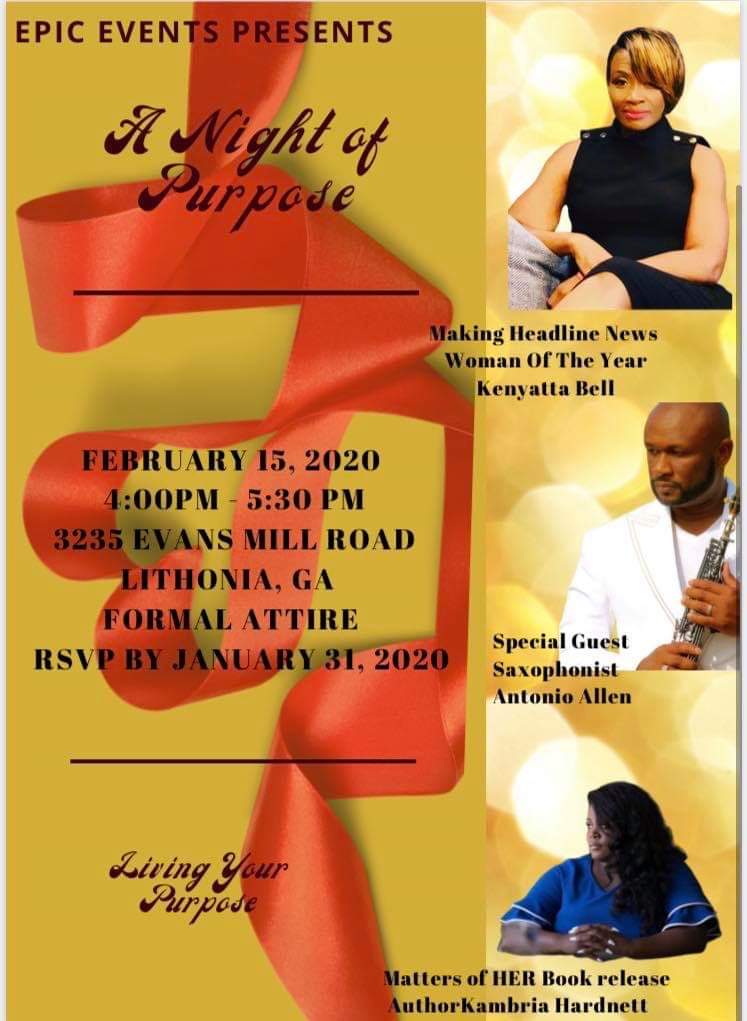 Bell has garnered an overwhelming array of favorable feedback since she announced her event.
"We have received a lot of positive feedback about this event, especially being on Valentine's Day weekend, catering to my single sisters who desire more."
A native of Gay, Georgia, Bell is the catalyst for the Epic Management Group, an Atlanta-area ministry that was spearheaded on IHeart Radio B96.3 and is aired by way of a slew of airwaves.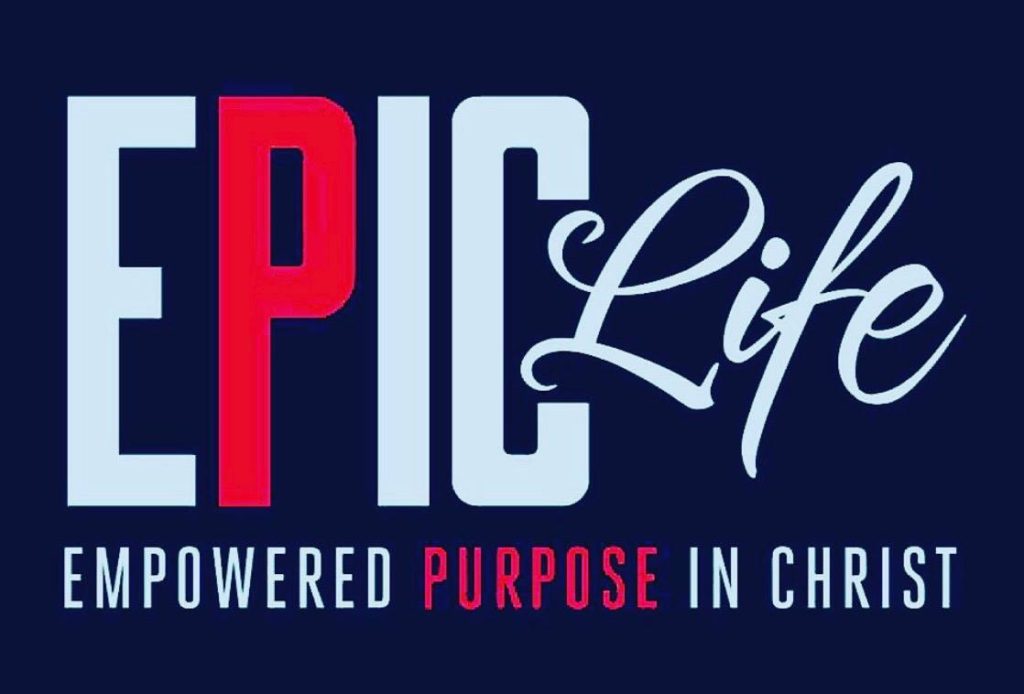 Widely regarded as Epic Life Ministry, this company has launched a social media teaching — a segment that's collectively conducted by Epic Life staffers Gina Beverly, Danielle Sunderhouse and Corey Watts — whereby it has garnered a global audience.
Interestingly, Epic Management Group has partnered with The Lighthouse Radio Station to host an array of what company officials describe as "epic life experiences," most notably for middle and high school students.
Generally, Bell emphasized The Epic Experience two-day retreat is geared largely toward igniting one's identity, as well empowering purpose and ministering to "my sisters," many of whom have been broken and/or shattered, she said.
"On the day that is looked at as expressing love, I want to show love to my single sisters," Bell said. "I want them to know that we can be treated like a Queen without lowering our standards and compromising our bodies."
---
SAVE THE DATE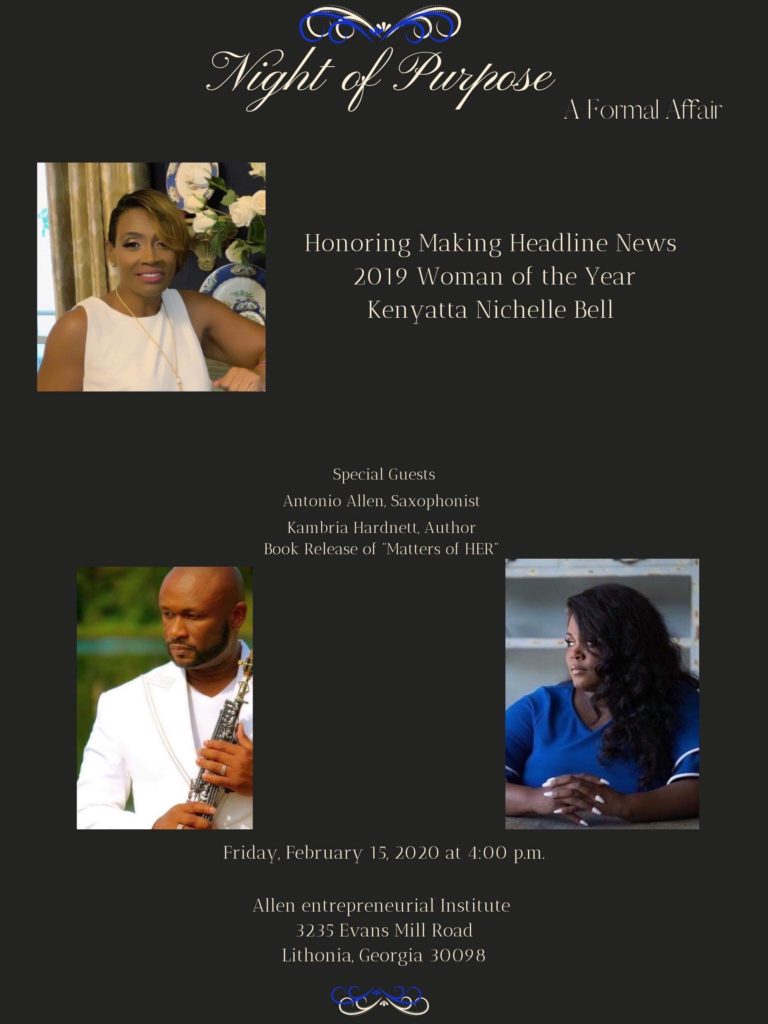 ---
A RELATED STORY

:
Atlanta-area businesswoman Kenyatta Bell displaying agape love for millennials as catalyst for Epic Life Ministry
For more information on Atlanta-area Businesswoman Kenyatta Nichelle Bell of Epic Management Group, or to schedule her for public appearance or speaking engagement, connect with her via social media at: https://www.facebook.com/EpicManagementGroup/.
---
CONNECT WITH THIS AWARD-WINNING JOURNALIST FOR MEDIA EXPOSURE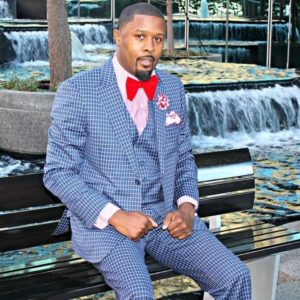 EDITOR'S NOTE: If you are an entrepreneur, business owner, producer, author, athlete, musician, barber, life coach, motivational speaker, cosmetologist, tax preparer, model, or pastor/minister who is seeking exposure and would like to share your story with an in-depth news feature, call Reporter Andre Johnson at 901-690-6587 or Facebook message him under "Andre T. Johnson" for details.
Andre Johnson is the award-winning Founder and Publisher for Making Headline News. A 2000 graduate of the University of Memphis School of Journalism and a former staff reporter of sports for the Memphis Commercial Appeal newspaper, Johnson covers the NBA Southwest Division from Dallas, Texas. To reach Johnson, send email to makingheadlinenews@gmail.com or to memphisgraduate@yahoo.com. Also, follow him on Twitter @AJ_Journalist.