SAVE THE DATE: Lineup of speakers announced for Evangelist Sherrell D. Mims' The Heart of A Caregiver Summit — July 2022 Edition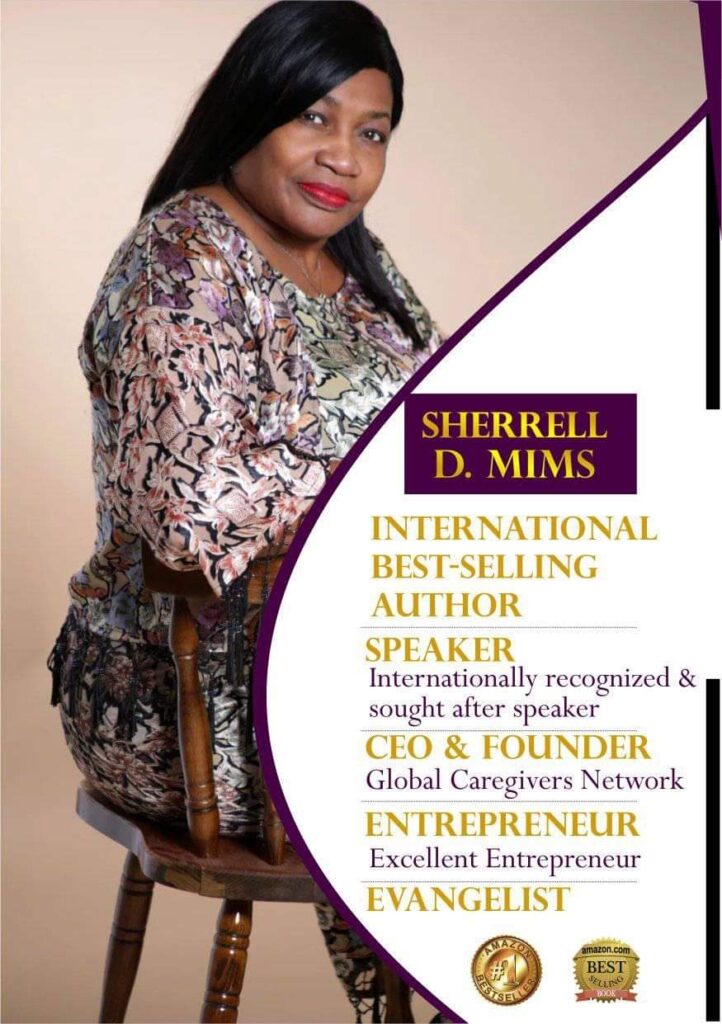 ---
ADVANCING THE KINGDOM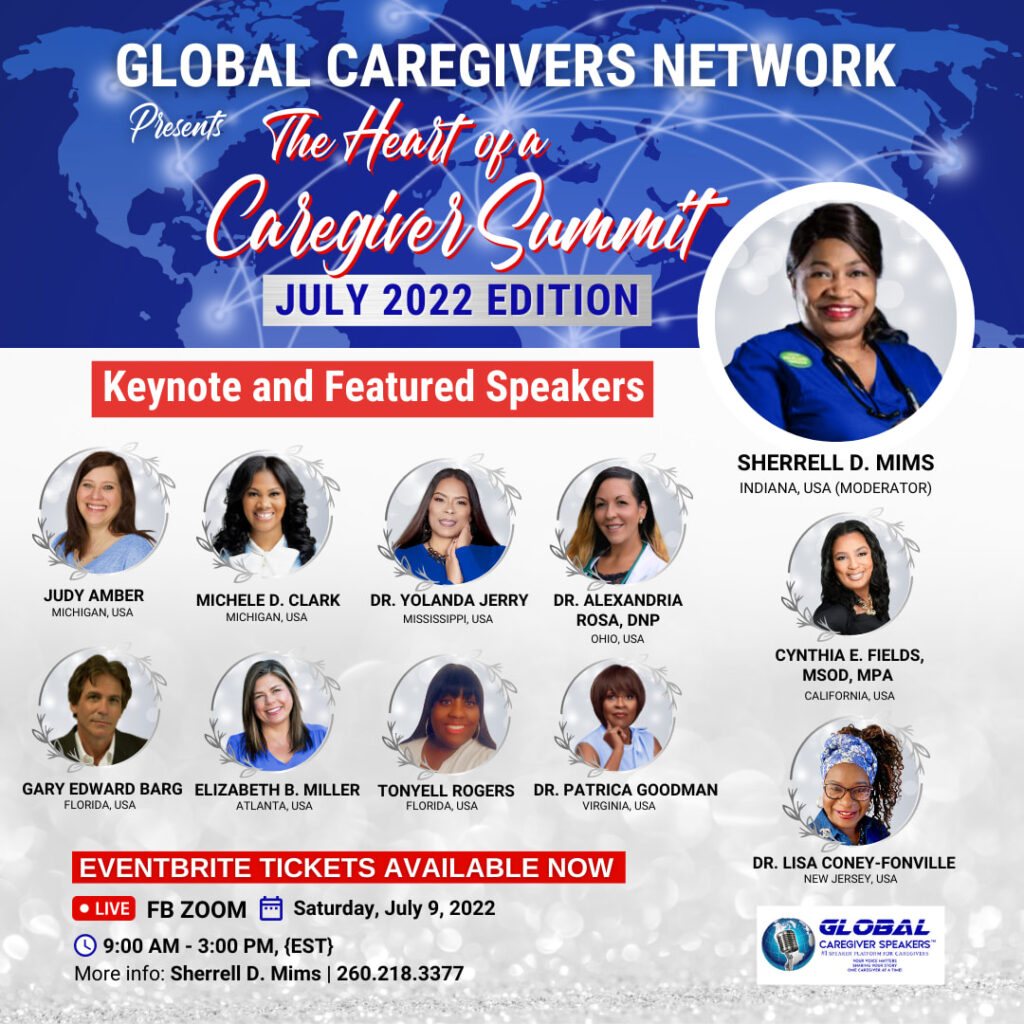 Evangelist Sherrell D. Mims has gone to great lengths to attract a number of notable dignitaries to her professional and family caregiver assembly.
The director of Global Caregivers Network, Mims will be afforded the golden opportunity to diligently encourage the masses when she spearheads The Heart of A Caregiver Summit July 2022 Edition.
Mims' Global Caregivers Network is a social media-based (via Facebook), educational, and informative safe space exclusively for caregivers, where they can come share their experiences and offer feedback and support for one another, the Fort Wayne, Indiana-based businesswoman told Making Headline News.
Also, Mims will serve as the moderator during the two-day summit, which will include the following speakers:
---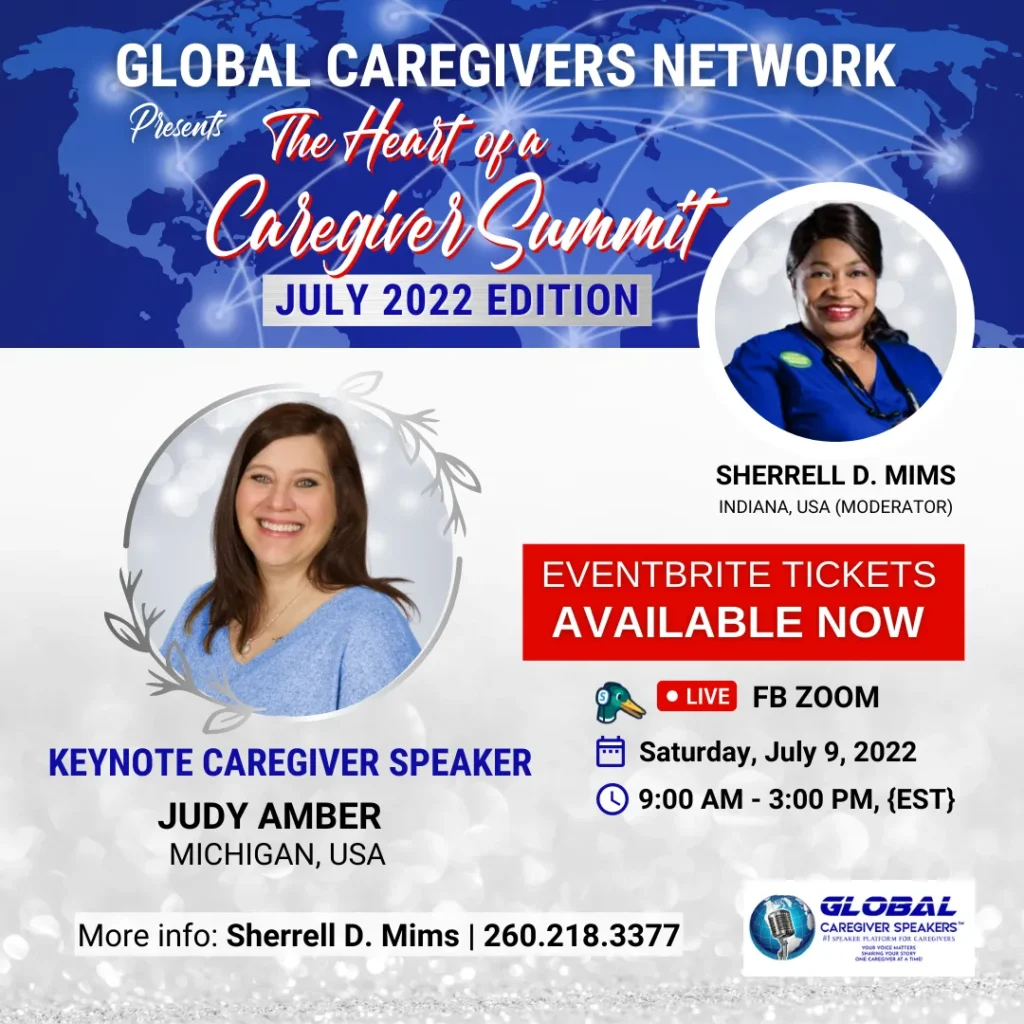 JUDY AMBER: Widely regarded as a God-loving mother, Amber is United States Army veteran who works in a number of capacities, most notably a healthcare worker, entrepreneur, and inspirational speaker. Amber, by all accounts, has become a fixture for helping her listeners to overcome the most horrific tragedy imaginable: the loss of a child. After working in healthcare for 18 years during which she aided those with traumatic head injuries, Amber lost her 16-year-old daughter to meningitis "in the blink of an eye," she recalls. Amber gained high praise for telling her story How I'm Surviving My Grief Journey, to those in need of healing from life's hardships and tragedies with the goal of restoring love and faith to those searching for their own answers.
---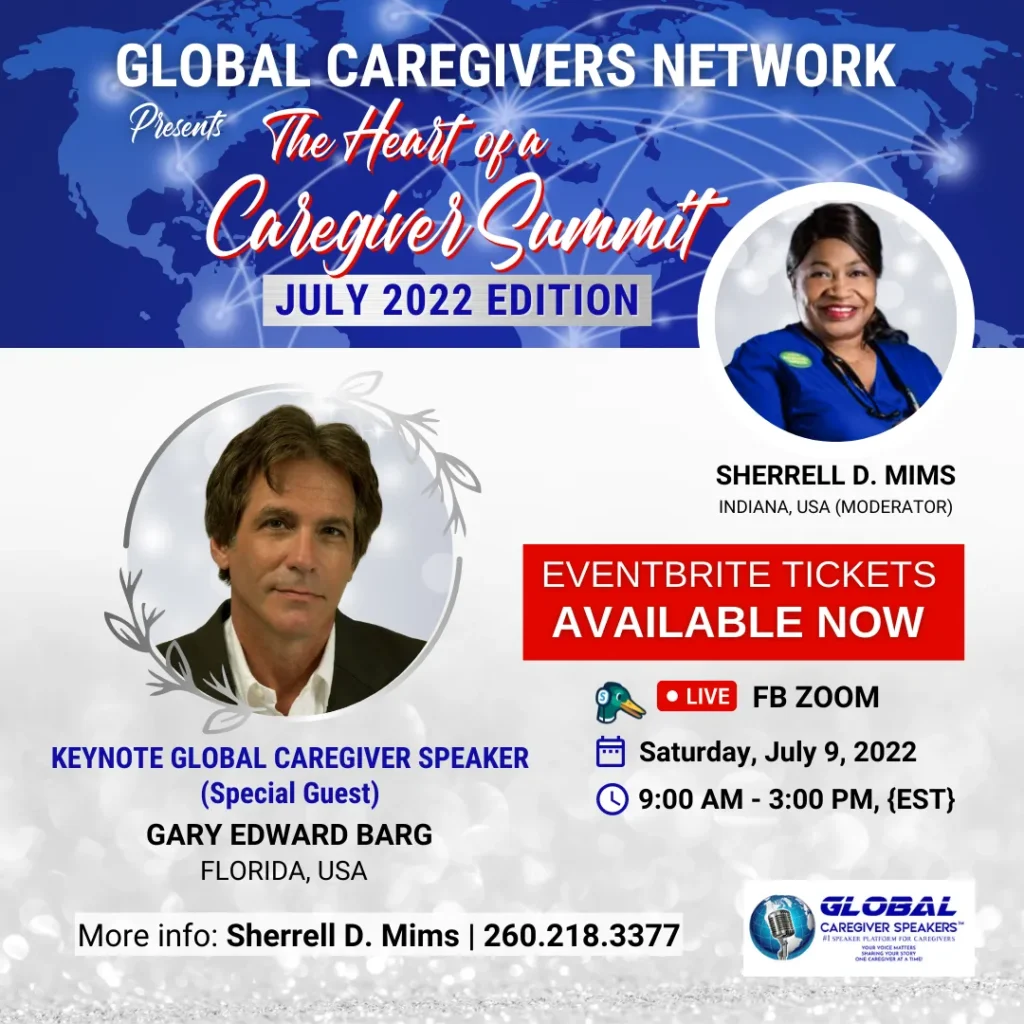 GARY EDWARD BARG: A noted speaker, writer, and publisher on caregiving issues since 1995, Gary Barg is Founder and Editor In Chief of the first national magazine for caregivers, Today's Caregiver, as well the original online caregiver community, caregiver.com. Today's Caregiver magazine and caregiver.com combine information, advice, and reader's stories with interviews with celebrity caregiver such as Leeza Gibbons, Rob Lowe, Dana Reeve, Barbara Eden and Debbie Reynolds, among others. Barb created The Fearless Caregiver Conferences, hosted across the country, which brings together caregivers to share their knowledge and experience and wisdom. His first book, The Fearless Caregiver, includes practical advice, poetry and inspirational stories. His second book, Caregiving Ties That Bind, includes as many as 150 celebrity caregiver cover interviews he has conducted since 1995. His newest book, You Are Not Alone, is filled with the advice and wisdom learned from family caregivers at over 280 Fearless Caregiver conferences held since 1998. His awards include the Mature Media Award for writing, International Television Association Golden Award.
---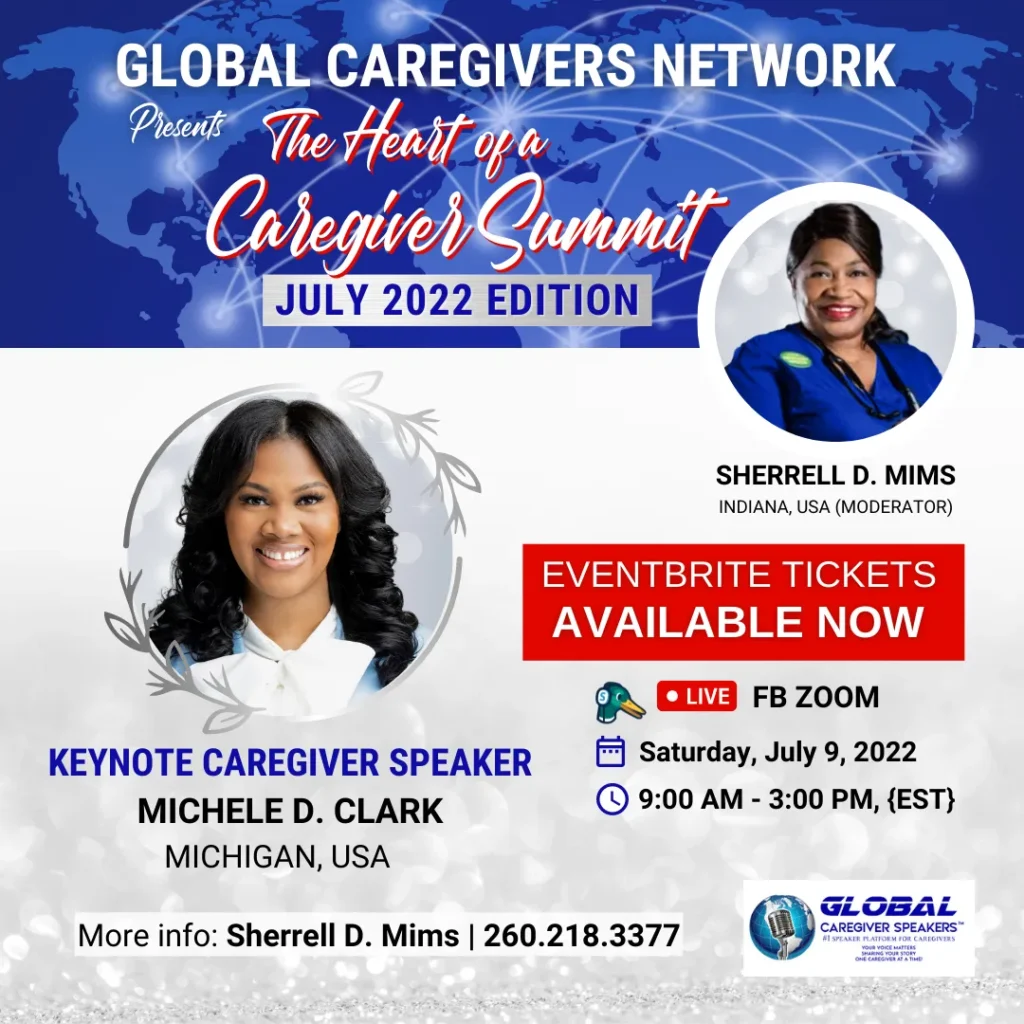 MICHELE D. CLARK: Affectionately called the "Hope Dealer," Clark is credited for launching LIFT Nation, her featured Michigan-based endeavor designed to uplift women who have gone through similar life-altering events, including a rare condition that resulted in her son being diagnosed with Cerebral Palsy at birth. Prior to becoming a family caregiver, Clark earned a Bachelor's Degree in Psychology and a Master's in Social Work. As a licensed mental health therapist, Clark is also owner of LIFT Life Counseling Solutions while also serving as what is known as a "Living-Inspired Life Coach," transformational speaker, empowerment author, and owner of INSPIRE TV channel, which airs on Exposure Network TV. During her appearance at The Heart of A Caregiver Summit 2022, Clark will address the subject, "Put Your Mask On First." For more information about Clark, follow her at https://micheledclark.com/.
---
NEED NATIONAL MEDIA EXPOSURE? CALL TODAY

: 

901.690.6587
---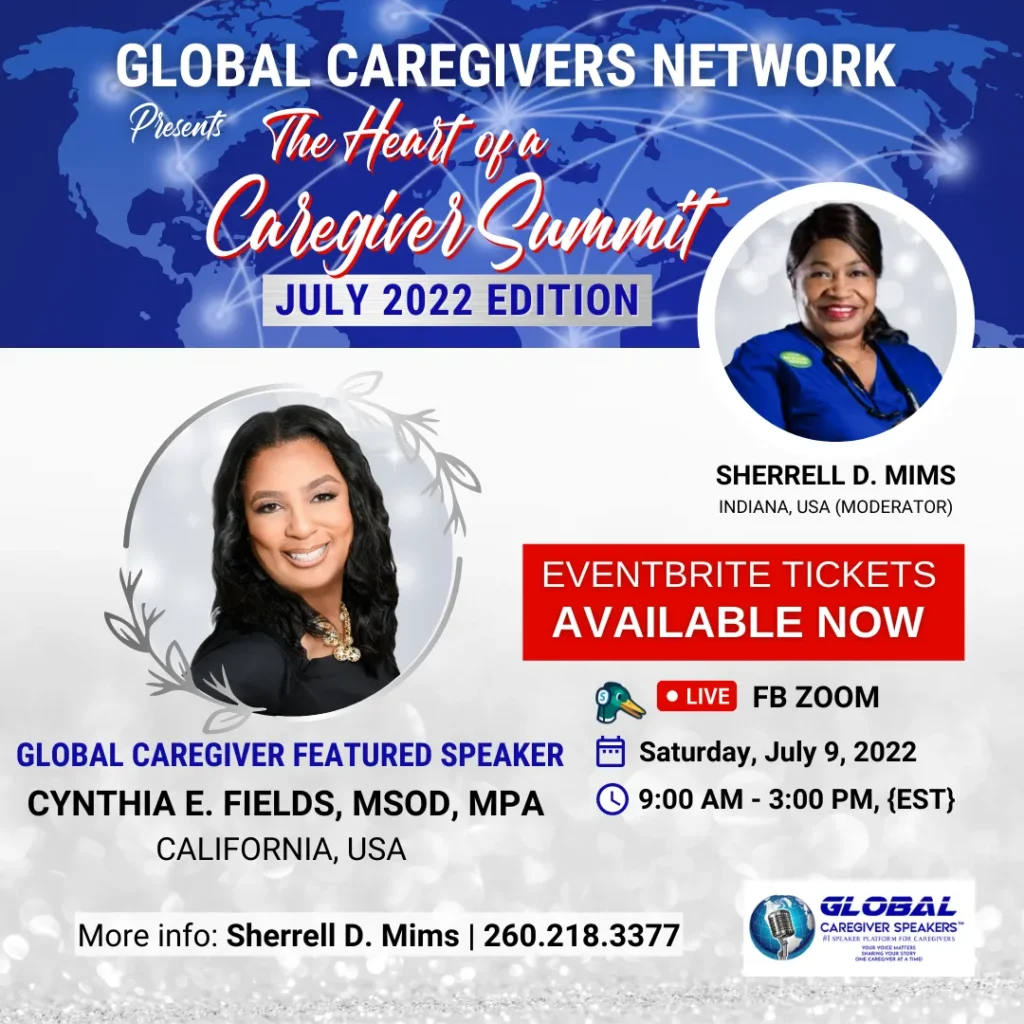 CYNTHIA FIELDS: Widely regarded as a Visionary, Leader, and Advocate, Cynthia E. Fields is an international and No. 1 best-selling author, writer, motivational speaker, mental health advocate, organizational strategist and an exemplary leader, with a quintessential vernacular for achieving high results through organizational leadership. Fields is reputed for her innate ability for filling lines of business, where the undertaking would be seemingly impossible to accomplish, and enhancing them into outstanding collateral successes. Bringing over 15 years of professional experience in Human Resource Management, Fields knows the importance of performance management, change management, culture enhancement, and employee engagement. Fields is merging those traits with her overall life's purpose; inspiring and encouraging others, especially disadvantaged youth and women. Fields holds a Master of Organization Development; a Master of Public Administration in Human Resources Management & Finance; and a Bachelor of Science in Business Administration. A member of Alpha Kappa Alpha Sorority, Inc. and the Church of Christ, Fields can be reached at: fields.cynt@gmail.com.
---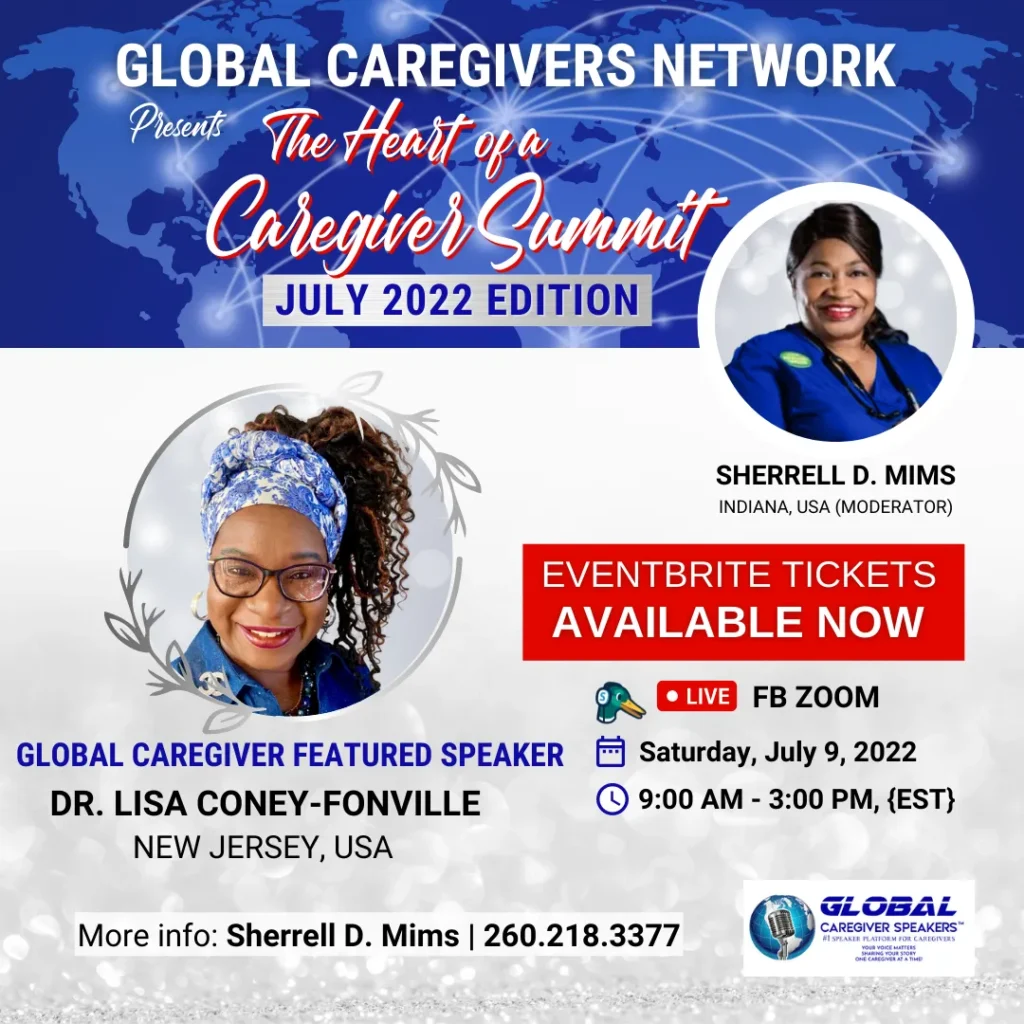 LISA CONEY: A native of New Jersey, Dr. Lisa Coney-Fonville is a transformational life coach, author, motivational speaker and veteran health advocate. She empowers women to step outside of the box and pursue their dreams. She believes the "power of life and death is in the tongue," as mentioned in Proverbs 18:21. Therefore, she speaks life, affirmations, and encouragement. Her most recent publication is Missed Opportunities. She consults and mentors with passion. She guides her clients with profound leadership and excellence. Dr. Coney is a professor, entrepreneur, and founder of E.L.I.T.E. Life Coaching (Empowered Life Inspired to Elevate). She uses her voice to advocate, educate, and add value everywhere she lands.
---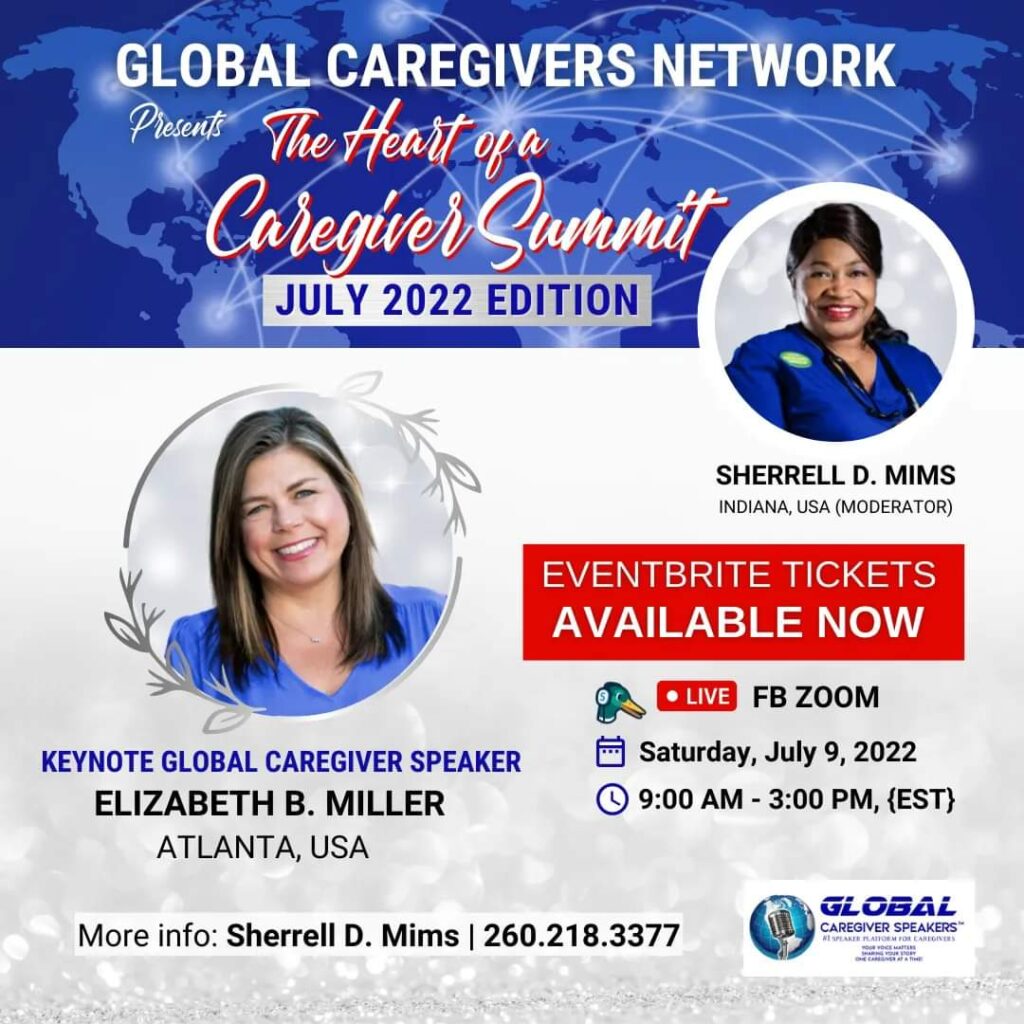 ELIZABETH B. MILLER: Elizabeth B. Miller is a family caregiver, caregiver advocate, speaker, author, podcast host, and Certified Caregiving Consultant. Her personal experiences caring for aging parents with chronic and terminal illnesses and for a sibling with developmental disabilities inspired her to create Happy Healthy Caregiver in 2015. She is an empty nester living in Marietta, Georgia with her husband and two dogs.
---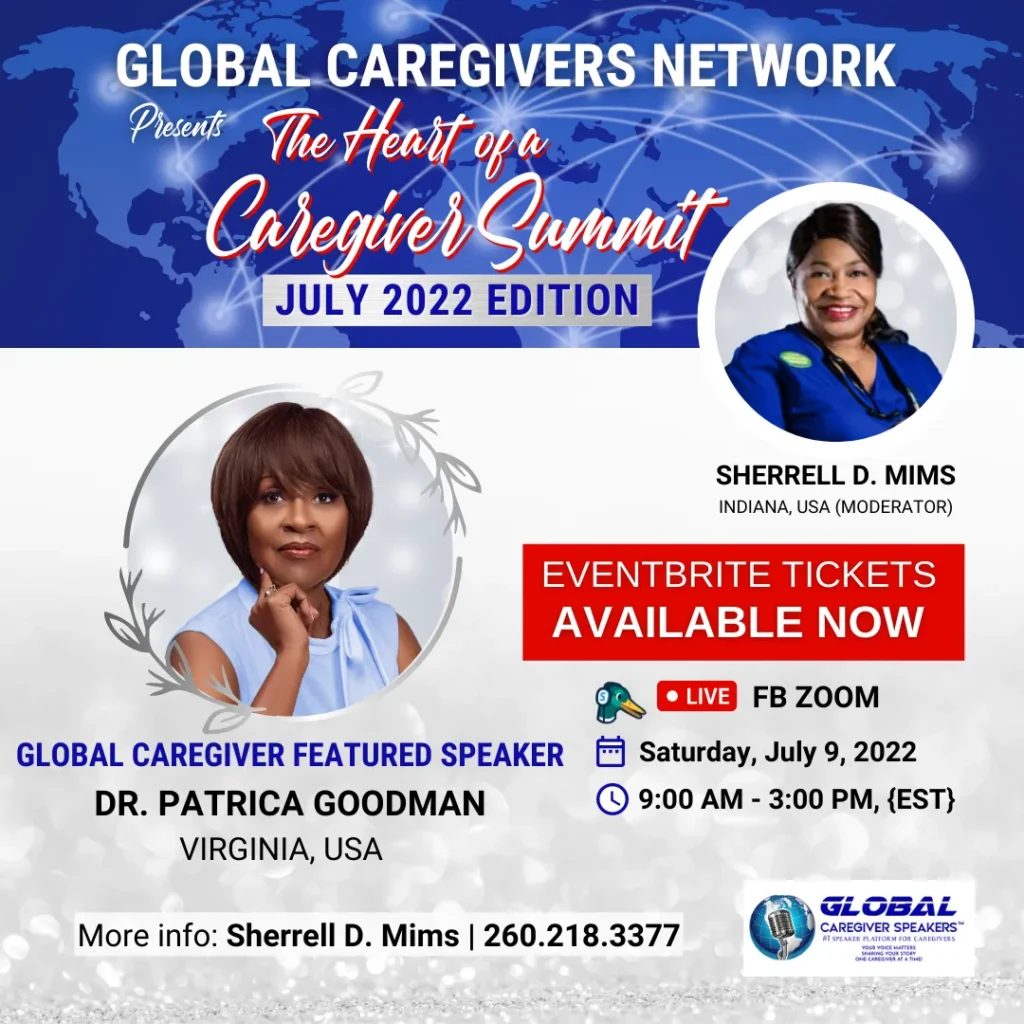 PATRICA GOODMAN: A Suffolk, Virginia-based marketplace minister, preacher, prayer intercessor, youth empowerment coach, and healing and deliverance speaker, Dr. Goodman is an ambassador and family caregiver. The owner of Cryptocurrency Wealth, Dr. Goodman has become a fixture for connecting men and women globally to a system that provides ways to gain passive income, particularly through mentorship and training. "Connect with me to learn and discover how to get in a position to build significant wealth," Dr. Goodman said. During her appearance at The Heart of A Caregiver Summit 2022, Dr. Goodman will speak from the subject, "The Importance of a Caregiver." For more information, send email to: https://mywbw.info/drpatgoodman/.
---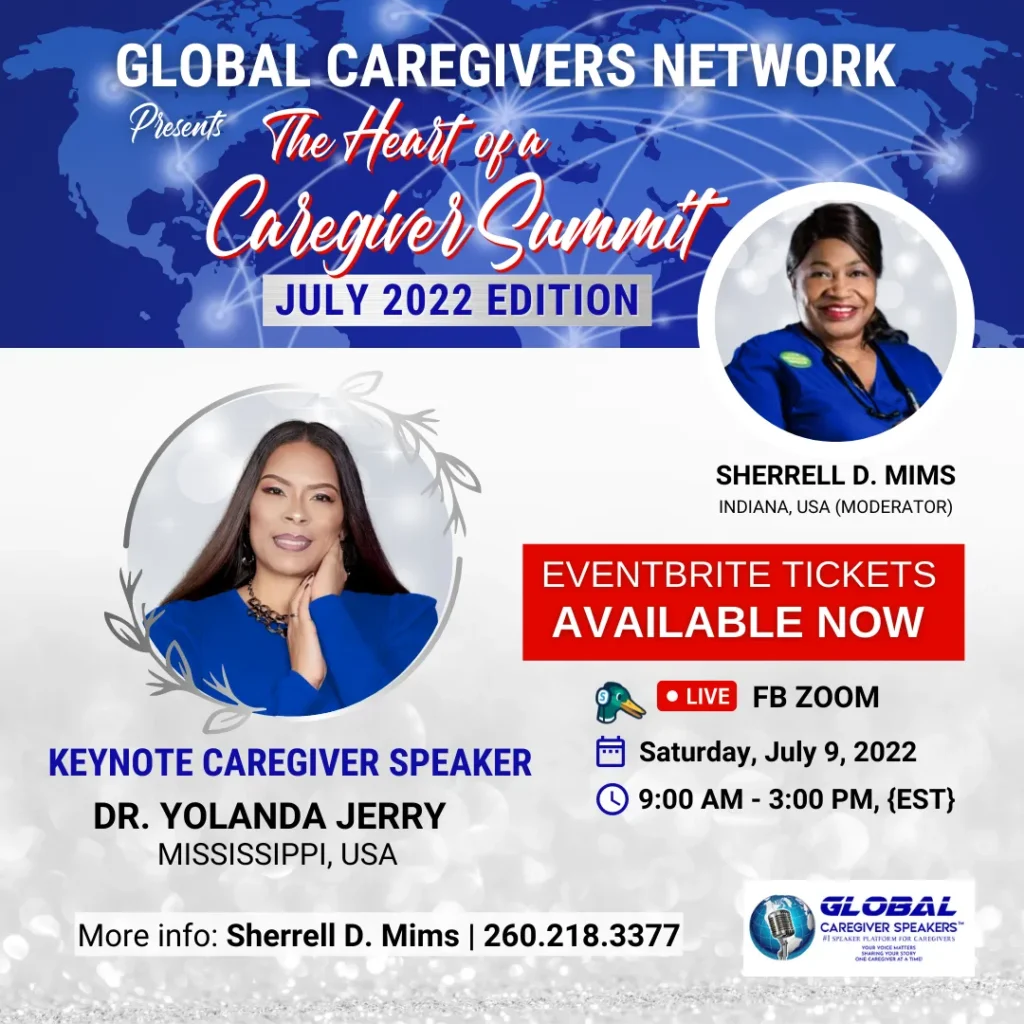 YOLANDA JERRY: Dr. Yolanda Jerry is an International Best-Selling Author, speaker, business guru, and CEO and Founder of YJ Empowerment Solutions LLC, a multidisciplinary advocacy program, invented to help clients push beyond their past traumas, and elevate to the next level, both personally and professionally.  She is also a retired Air Force veteran, Co-Founder of Bridging The Gap Transitional Age Youth Program and the recipient on the of the Lifetime Achievement Award from President Joe Biden and Vice-President Kamala Harris. Affectionately known as the "Empowerment Advocate," Dr. Jerry is reputed for her innate ability to exhort multi-generational audiences through her powerful and relatable messages as she passionately advocates for truth, healing, resiliency, and personal growth. When Dr. Jerry is not out advocating for those in need, she is a loving partner, mother, and friend.
---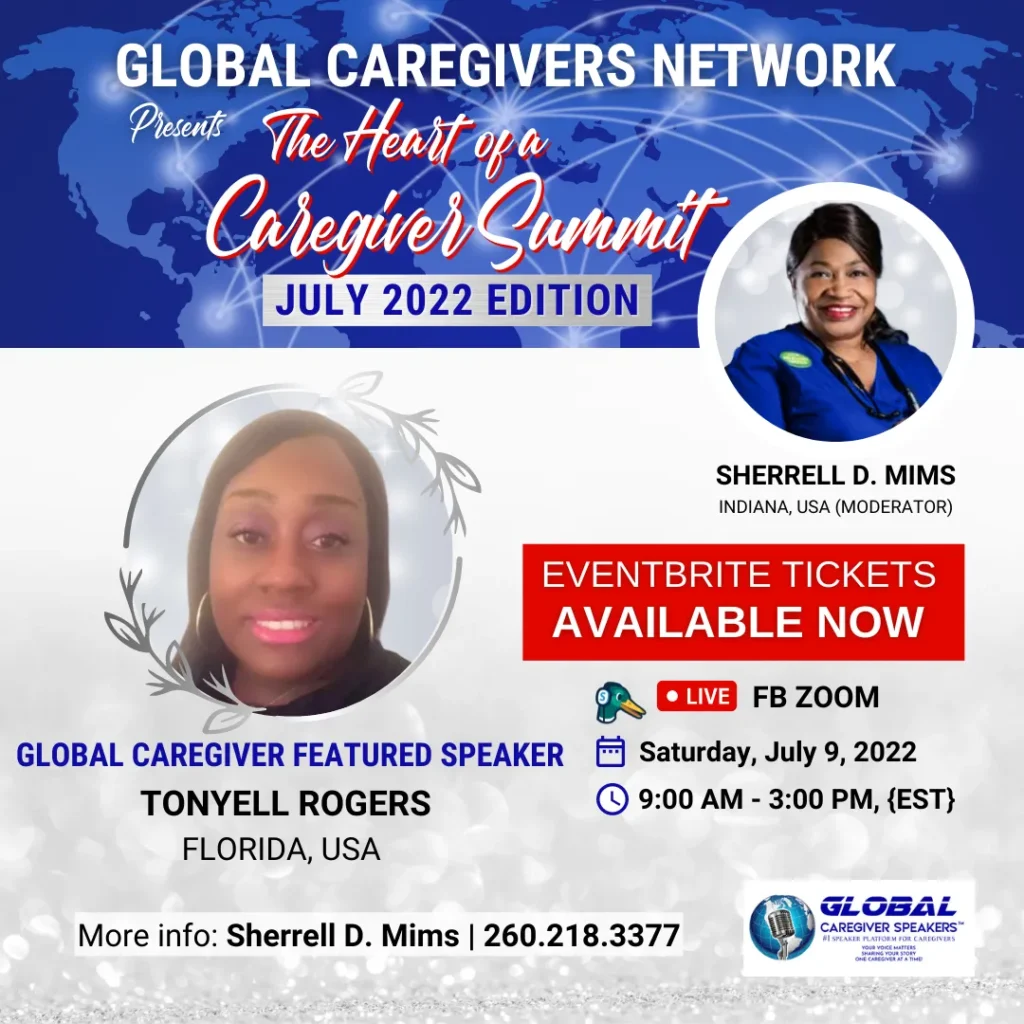 TONYELL ROGERS: Rogers is a devoted full-time student who resides in Destin, Florida. She's pursuing a Master's Degree in Psychology and is a soon-to-be certified public speaker and author. A full-time caregiver to her father and daughter, Rogers will be speaking about the sudden death of her mother, who suffered from an ischemic stroke. Rogers can be reached via Facebook at Tonyell Hardy Rogers. Also, send email to: t_rogers55@yahoo.com.
---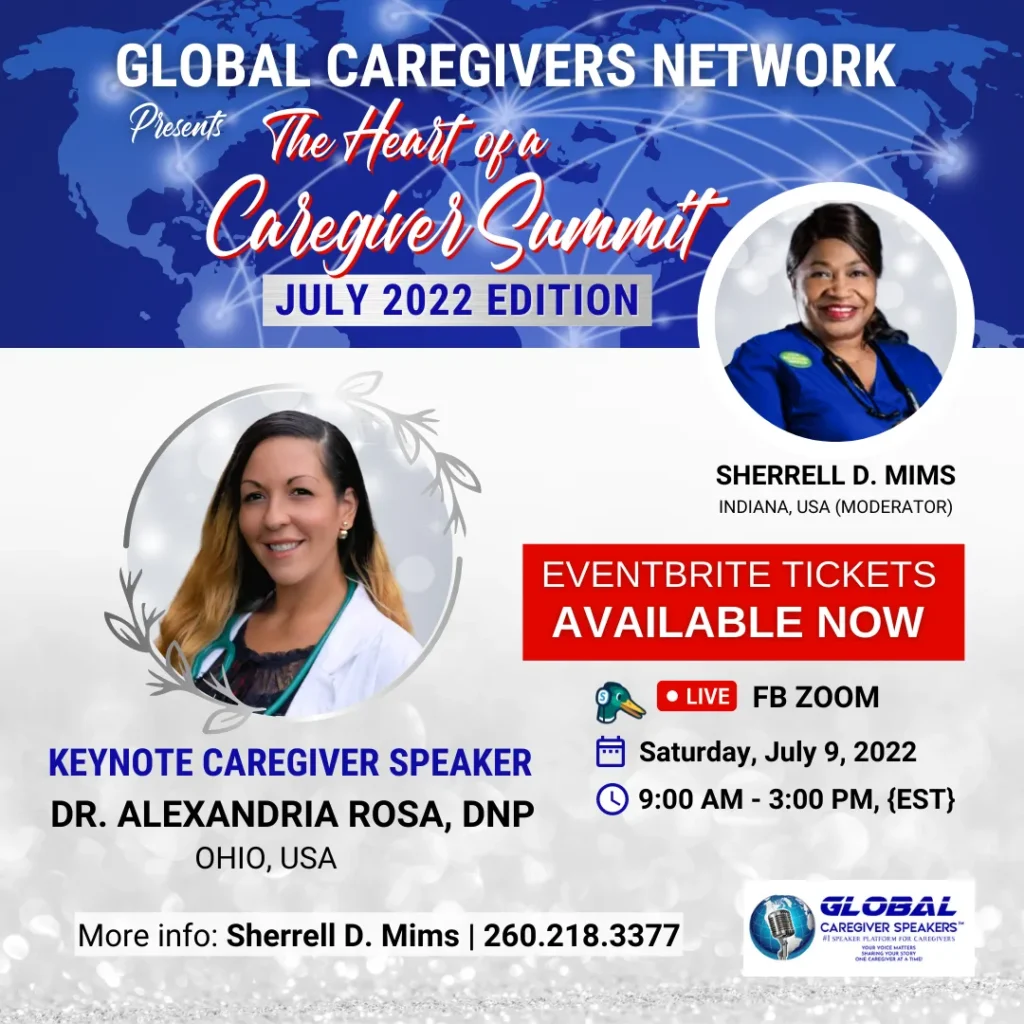 ALEXANDRIA ROSA: Dr. Alexandria Rosa is a holistic practitioner from Lorain, Ohio. She is on a mission to transform healthcare and how it is delivered to you.  Specializing in women's health and preventative care, Dr. Rosa is the creator of SPICE. To reach her, connect with her at alex@getyourspice.net or text (216) 236-5284.
---
---
---
A RELATED STORY
SAVE THE DATE: Lineup of speakers announced for Evangelist Sherrell D. Mims' The Heart of A Caregiver Inaugural Summit 2022
---
---
​CONNECT WITH THIS AWARD-WINNING JOURNALIST FOR MEDIA EXPOSURE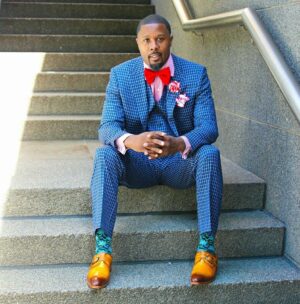 WHAT'S YOUR STORY? If you are an entrepreneur, business owner, producer, author, athlete, musician, barber, life coach, motivational speaker, cosmetologist, tax preparer, model, or pastor/minister who is seeking exposure and would like to share your story with an in-depth news feature, call Reporter Andre Johnson at 901-690-6587 or Facebook message him under "Andre T. Johnson" for details.
Andre Johnson is the award-winning Founder and Publisher for Making Headline News. A 2000 graduate of the University of Memphis School of Journalism and a former staff reporter of sports for the Memphis Commercial Appeal newspaper, Johnson covers the NBA Southwest Division from Dallas, Texas. To reach Johnson, send email to makingheadlinenews@gmail.com or to memphisgraduate@yahoo.com. Also, follow him on Twitter @AJ_Journalist or Instagram at @makingheadlinenews.
---
ADVERTISE WITH US