A slew of remarkably compelling things are in store for longtime Florida businesswoman Michelle Greene Rhodes.

Amongst the notable objectives in the upcoming New Year is her Third Annual Book Launch For Nurses.

---

An event that is technically named Nurses Take Jamaica and powered by Michelle Rhodes Media LLC, this six-day adventure — a "call for sponsors," organizers for event emphasized — will take place May 26-June 1.

During a recent interview with Making Headline News, Rhodes, a Tampa-based entrepreneur announced that during the 2019 Book Launch For Nurses, she and her staff will pay homage to 10 nurses, each of whom have been afforded the golden opportunity to self-publish their book.

Nurses Takes Jamaica is an empowerment, a multiple-island destination cruise getaway for nurses, during which they can vacation, celebrate, and become educated and empowered while connecting with a group of "amazing" nurses, Rhodes said.

"We chose May as the month that we honor nurses and Nurses Week is celebrated," Rhodes said. 

In addition, attendees will experience: a three destination stop to Ocho Rios, Jamaica, the Cayman Islands, and Cozumel, as well as participate in a variety of fun activities such as health and wellness workshops, an all-white themed cocktail party, a leadership

Seminar, a Chat and Chew Entrepreneur Breakfast, and an honorary dinner for BNE Founder Alvionna Brewster.

Last year, Rhodes helped 15 nurses to self-publish their books.

A native of St Petersburg, Florida who boasts a solid career as a registered nurse, Michelle Greene Rhodes is the mastermind by an immeasurable coaching business, which allows her to inspire and empower nurses into entrepreneurship.

"(I want) to see more nurses fulfilled by their purpose," Rhodes told during Making Headline News during an October 2018 interview.

Acknowledging that her 2019 cruise needs more exposure, most notably through the mainstream media, Rhodes announced that her forthcoming Book Launch For Nurses will be centered on these notable developments, among others:

Empower Nurses to look at business more seriously
Celebrate the Founder of "Black Nurse Entrepreneurs," Ms. Alvionna Brewster, and,
Host a Health and Wellness Seminar by LaTonya Mims, CRNA, and a spiritual and community leadership principles segment by Dr. Angella Banks, Xcellence, Inc. Founder. Also, Dr. Latora Grant Scott will conduct a seminar, during which she will host morning yoga for the nurses. 

During the inaugural Book Launch For Nurses in 2017, Rhodes witnessed the much-anticipated release of her my book entitled, "RNterprise."

A book that is comprised of 136 pages in length and "took the nursing world by storm," Rhodes said, "RNterprise" is widely deemed a step-by-step guide that provides you with all of the tools and advice you will need to move from your current nursing position and to emerge as what this author describes as an "empowered business owner" in 90 days.

"Michelle Rhodes, 'The RN Life Coach,' will show you exactly how to envision the future you so desperately desire and the entrepreneurial actions needed to take in order to actually get there," said a spokesperson for Rhodes' book in a detailed breakdown at Amazon.com.

---

For more information about Tampa, Florida-based Author/Businesswoman Michelle Greene Rhodes, to inquire about the Nurses Take Jamaica powered by Michelle Rhodes Media LLC, call 863.588.4294, send e-mail to: ljconsultantsandassociates@gmail.com. Also, for more event details, visit www.NurseRetreat.info.

To schedule Rhodes for a public appearance, a book signing or speaking engagement, connect with her via Facebook under: Michelle Greene Rhodes. Also, send email to: michelle@michellerhodesonline.com.

---

CONNECT WITH THIS AWARD-WINNING JOURNALIST FOR MEDIA EXPOSURE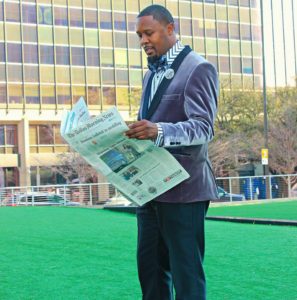 EDITOR'S NOTE: If you are an entrepreneur, business owner, producer, author, athlete, musician, barber, life coach, motivational speaker, cosmetologist, tax preparer, model, or pastor/minister who is seeking exposure and would like to share your story with an in-depth news feature, call Reporter Andre Johnson at 901-690-6587 or Facebook message him under "Andre T. Johnson" for details.
Andre Johnson is the award-winning Founder and Publisher for Making Headline News. A 2000 graduate of the University of Memphis School of Journalism and a former staff reporter of sports for the Memphis Commercial Appeal newspaper, Johnson covers the NBA Southwest Division from Dallas, Texas. To reach Johnson, send email to andre@makingheadlinenews.com or to memphisgraduate@yahoo.com. Also, follow him on Twitter @AJ_Journalist.