'QUEEN MINDSET' MEDIA COVERAGE: Washington, D. C. author Maya Tyler on her latest book project: 'I had come into my own 'Queen mindset'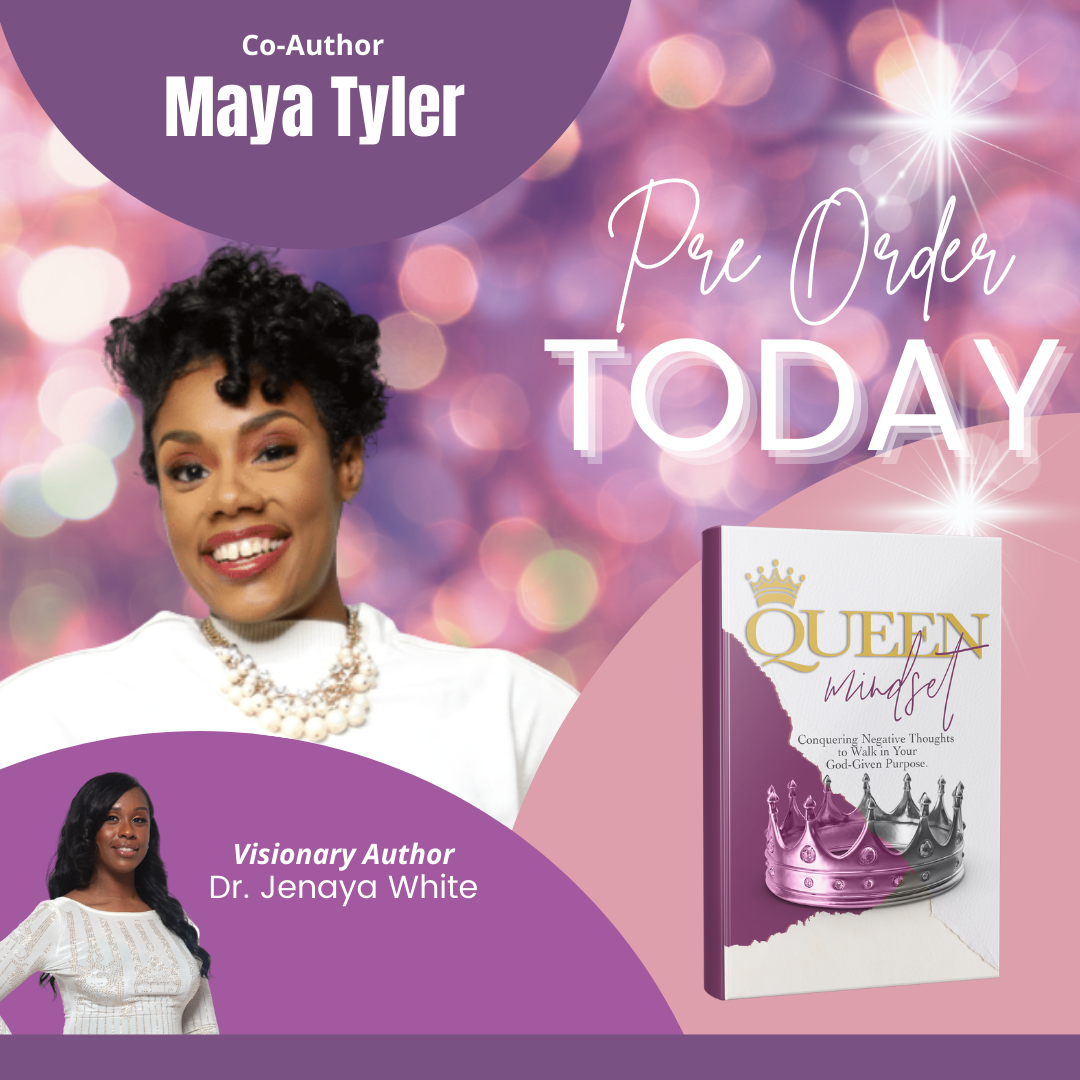 ---
No, in all these things, we are more than conquerors through Him who loved us. (Romans 8:37 NIV)
---
PRESENCE OF ROYALTY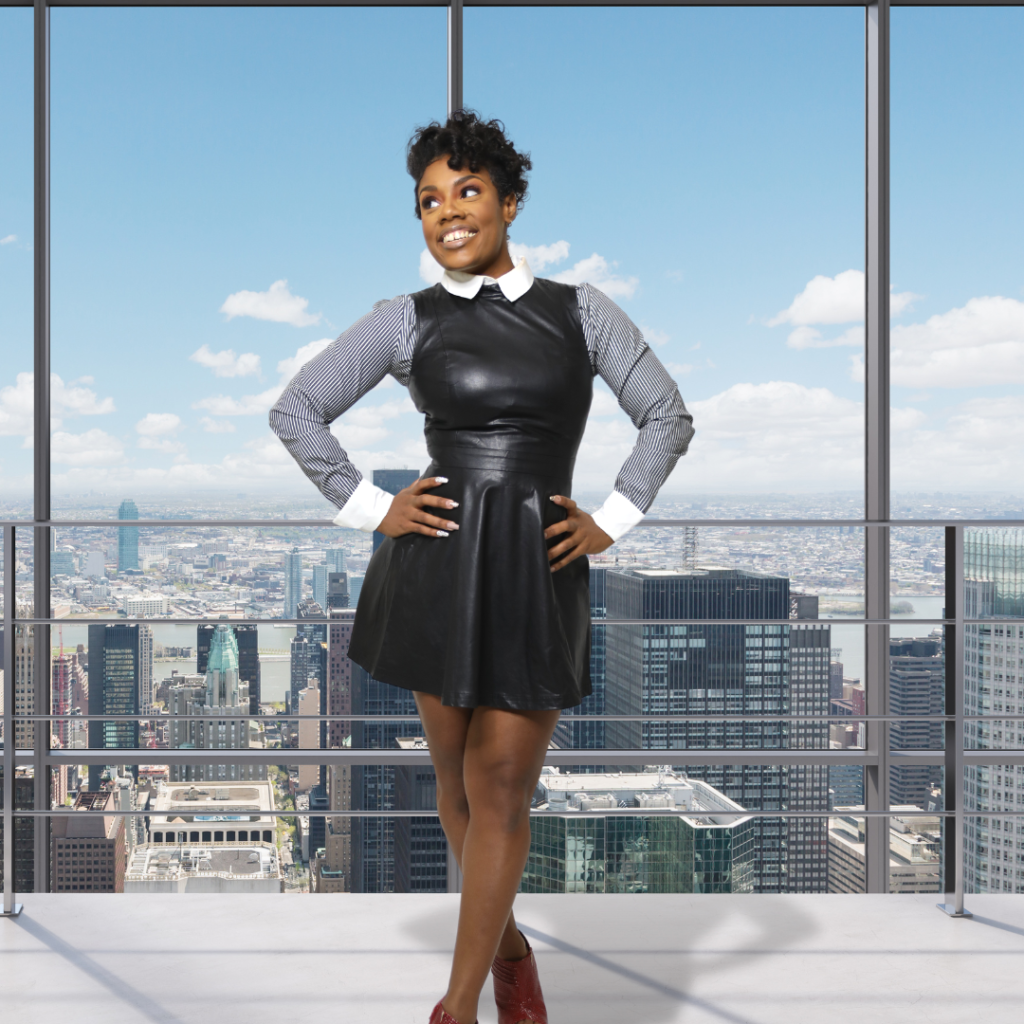 ---
By all accounts, Maya Tyler's latest authorship adventure strategically aligns with the divine purpose for which God created her.
How else to explain why she wasted little time carrying out her God-mandated assignment?
"I wrote my chapter as soon as Dr. (Jenaya) White told me my topic," Tyler told Making Headline News as part of its coverage leading to Bishop T. D. Jakes' Woman Thou Art Loosed Homecoming The Finale. "I had come into my own 'queen mindset' when it came to being a successful widowed mom, healed woman, and entrepreneur. The story of that journey wrote itself."
And what a remarkably brilliant story it is for Tyler, a Washington, DC-based empowerment personality who is one of 10 coauthors to grace the pages of Queen Mindset: Conquering Negative Thoughts To Walk In Your God-Given Purpose
.
---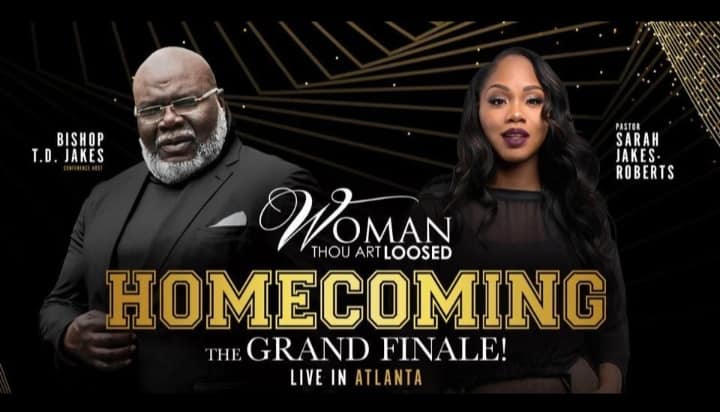 ---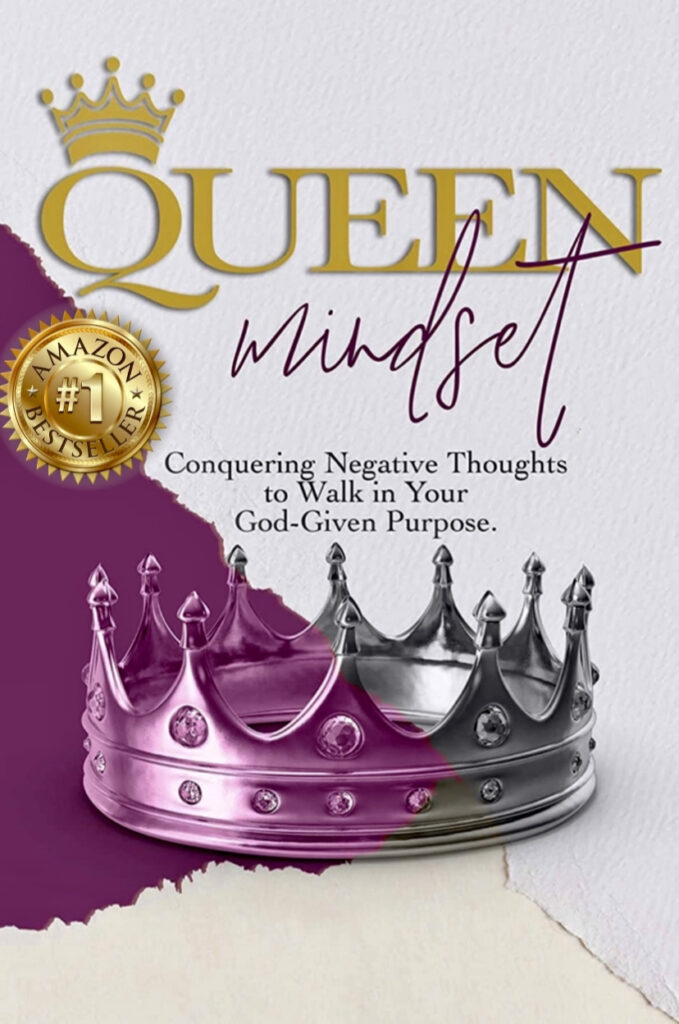 ---
A spiritually-empowering anthology that will debut in Summer 2022, Dr. Jenaya White spearheaded Queen Mindset: Conquering Negative Thoughts To Walk In Your God-Given Purpose as a strategic, effective way to help encourage — and remind — the masses that they aren't alone in their struggles, according to an in-depth synopsis of this collaborative written work at Amazon.com.
"The problem is that our society has placed unrealistic pressure and expectations on women to change themselves to fit into the ever-evolving beauty and social standards," said an Amazon spokesperson for Dr. White's Queen Mindset. "In most cases, these standards are so high that they are almost unattainable. Mental health issues and other problems can result from this."
---
NEED NATIONAL MEDIA EXPOSURE? CALL TODAY

: 

901.690.6587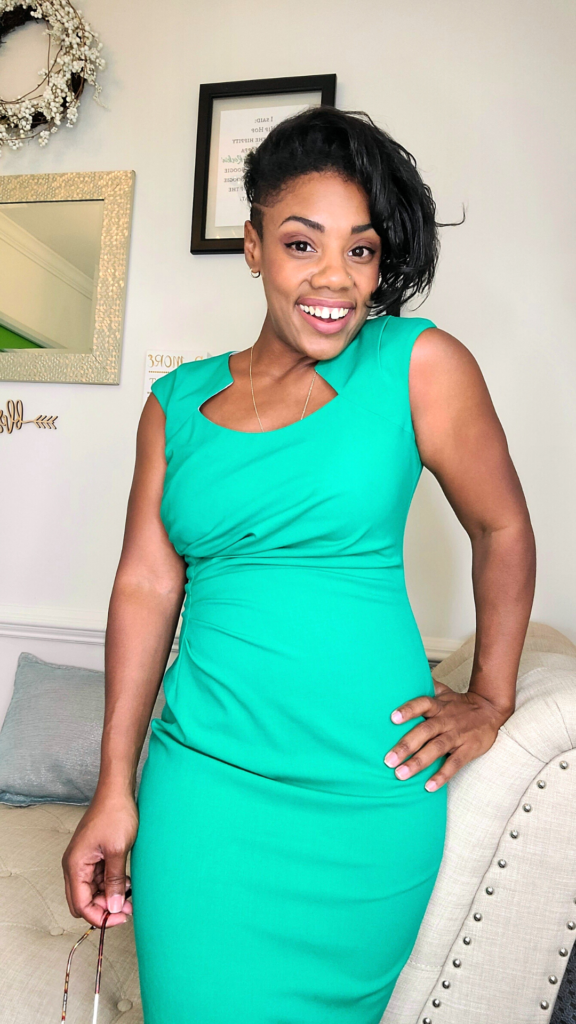 ---
In a nutshell, the purpose Dr. White's Queen Mindset is to share stories of how the co-authors pursued their purpose despite being faced with some of life's hardest challenges: losing loved ones, dealing with depression, fighting sickness, experiencing financial hardships, and other extremely difficult situations that could have hindered them.
When asked in what ways is Queen Mindset a part of the purpose for which God has created her, Tyler said: "Marshawn Evans Daniels says: 'We are the voice of the living word.' My gift for writing, sharing my story, and manifesting my passion to advocate for widowed women is the purpose God has for me. This book is just another vessel that carries it."
The founder of Widows Do Bounce Back LLC With Maya Tyler, her Washington, D. C.-based featured empowerment venture, Tyler said she was "honored" when approached with the opportunity to collaborate with Dr. White's anthology, which is currently in the preorder phase.
---
OWNING THE MOMENT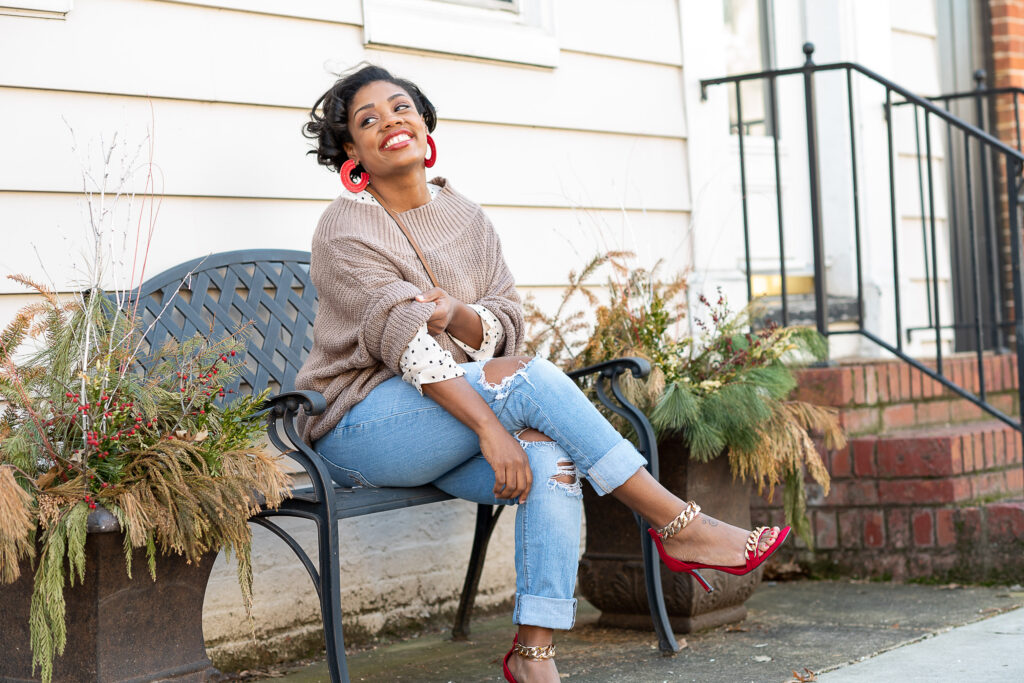 ---
"I chose to accept (this opportunity) because I love to share my story," Tyler explained." Not because it is particularly fun to tell…it's absolutely not. But because it's what God has given me to use, to help someone else so when I'm called upon, I bring it. I wrote my chapter in a few hours, actually. I'm a natural writer and pouring out my story the way it needs to be heard — to touch lives and change perspectives — that is my gift. I'm blessed and highly favored in that way."
---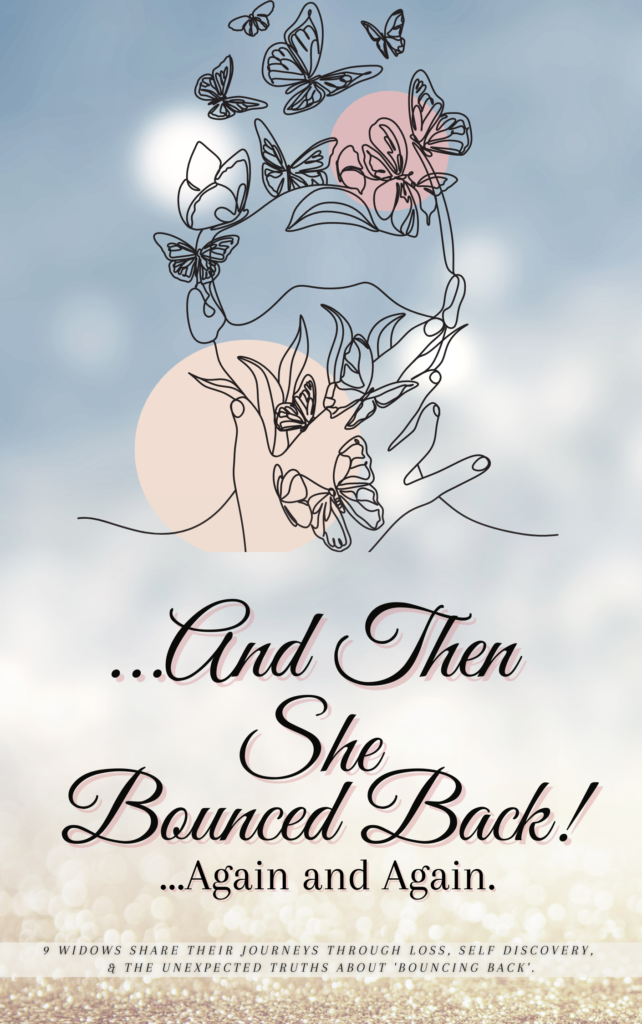 ---
A native of Marlboro, Maryland, Tyler witnessed her authorship debut come full circle in 2015 with the release of Bounce Back Better, How To WIN After Great Loss, an 80-page written work that has attracted a rash of rave reviews.
And this week, Tyler told MHN she's currently spearheading her first anthology. The title: And Then She Bounced Back Again And Again, a collaborative project that is comprised of eight co-authors.
---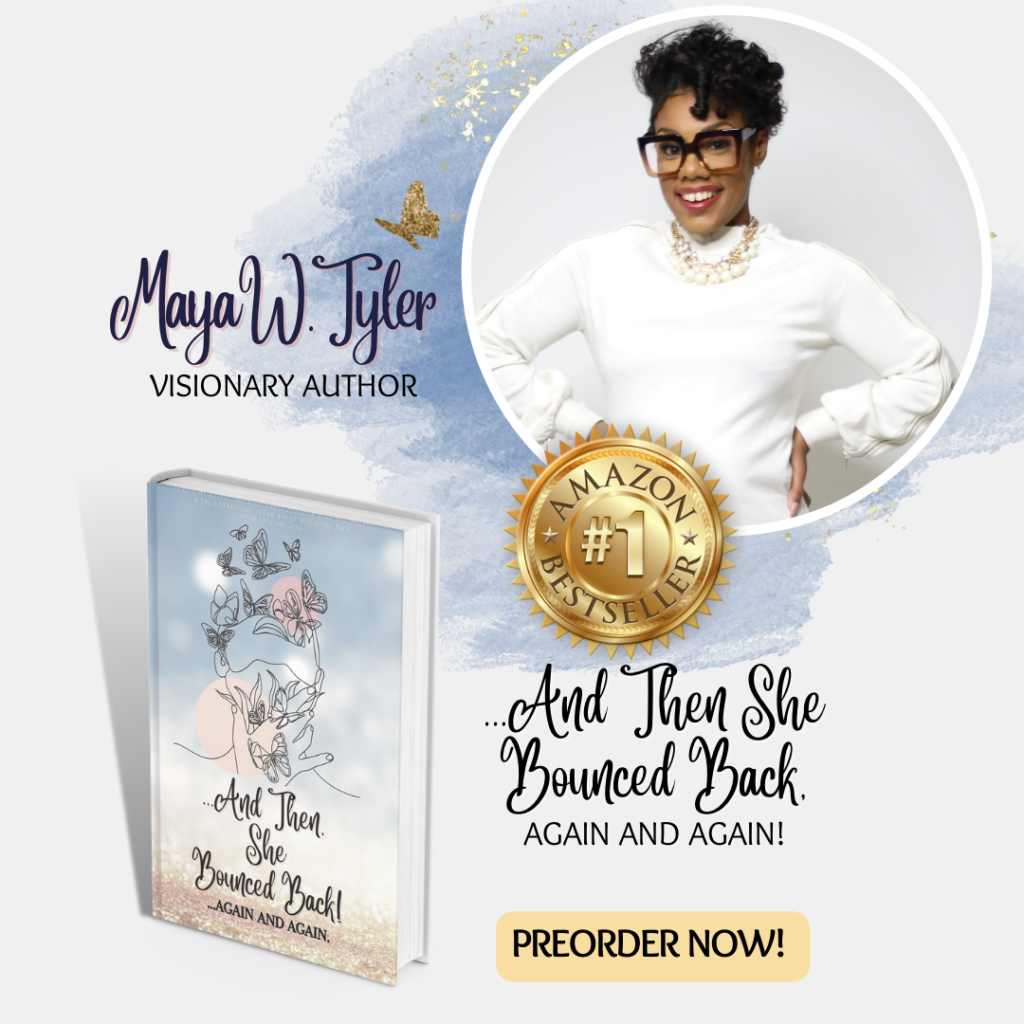 ---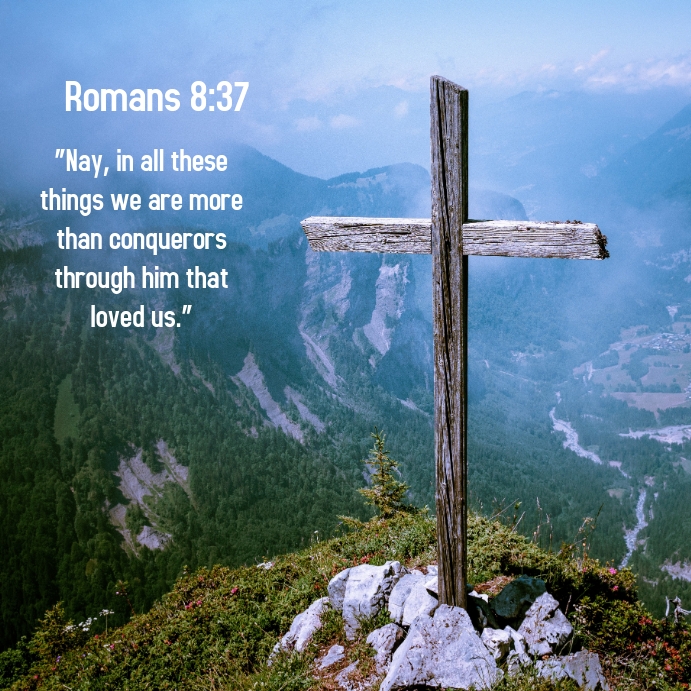 ---
Like Queen Mindset, And Then She Bounced Back Again And Again is in the preorder phase, Tyler said.
Other books, she said, are forthcoming.
"I plan to do more anthology projects with many more widowed women, and even widowed men in the future, who have a story to tell and wisdom to share," Tyler, who coaches weekly via her Instagram page, said. "(This) book is in preorder. But I expect people will connect to my candor, humor and widow-BFF (Best Friend Forever) vibe, because connection is what helps people trust you enough to internalize the help you have to offer."
---
ALTOGETHER LOVELY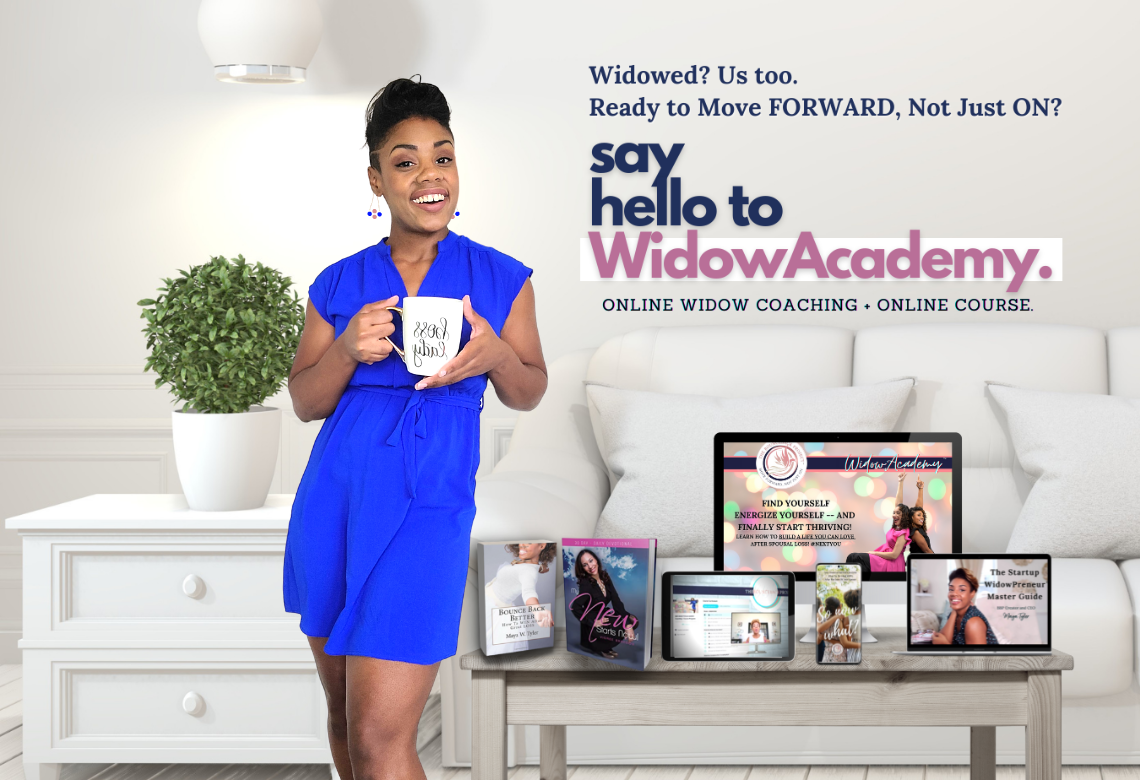 ---
Also, Tyler is "actively booking" speaking engagements to promote both the current and forthcoming anthology, she told MHN.
---
MAKING HEADLINE NEWS SALUTES
MAYA TYLER 
---
A RELATED STORY 
'QUEEN MINDSET' MEDIA COVERAGE: Accomplished Delaware author Dr. Jenaya White's first anthology drawing a slew of favorable reviews
---
For more information about Washington, D. C.  Author/Businesswoman Maya Tyler of Widows Do Bounce Back LLC With Maya Tyler, to inquire about her books, or to schedule her for a public appearance, book signing or speaking engagement, connect with her via the following platforms: Facebook: https://www.facebook.com/BounceBackProjectCommunity; Instagram: https://www.instagram.com/thebouncebackproject/; LinkedIn: https://www.linkedin.com/in/mayatyler/; Twitter: https://twitter.com/BounceBackAcdmy. Send email to:

maya.tyler@gmail.com

.
---
​CONNECT WITH THIS AWARD-WINNING JOURNALIST FOR MEDIA EXPOSURE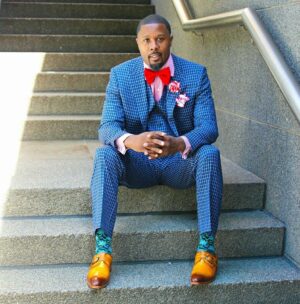 WHAT'S YOUR STORY? If you are an entrepreneur, business owner, producer, author, athlete, musician, barber, life coach, motivational speaker, cosmetologist, tax preparer, model, or pastor/minister who is seeking exposure and would like to share your story with an in-depth news feature, call Reporter Andre Johnson at 901-690-6587 or Facebook message him under "Andre T. Johnson" for details.
Andre Johnson is the award-winning Founder and Publisher for Making Headline News. A 2000 graduate of the University of Memphis School of Journalism and a former staff reporter of sports for the Memphis Commercial Appeal newspaper, Johnson covers the NBA Southwest Division from Dallas, Texas. To reach Johnson, send email to makingheadlinenews@gmail.com or to memphisgraduate@yahoo.com. Also, follow him on Twitter @AJ_Journalist or Instagram at @makingheadlinenews.
---
ADVERTISE WITH US