Mavericks ruin masterful displays by Kyrie Irving and Kevin Durant, pull away for statement win in overtime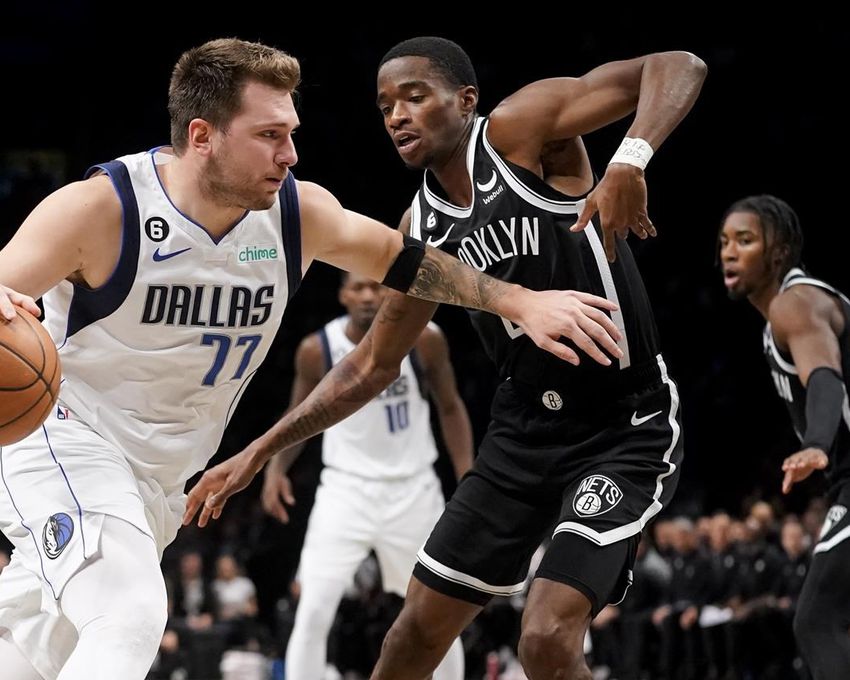 ---
Mavericks superstar Luka Dončić registered the third 40-point triple-double performance of his career and visiting Dallas outscored a seemingly fatigue Brooklyn Nets team, 17-13, in the extra frame to escape with a 129-125 overtime win Thursday night at Barclays Center.
In their first of three games in a span of four days, the Mavericks (2-2) reached the .500 mark and claimed their first road win of the season, this after witnessing six players score in double figures while handing Brooklyn (1-4) its third consecutive loss and its second in as many nights.
For Dončić, it yet was another remarkable showing for the 6-foot-7 Slovenian, this year's NBA odds-on favorite for league MVP.
Dončić recorded his 47th career triple double after finishing with a season-best 41 points on 14 of 28 shooting, 11 rebounds, and 14 assists in 40-plus minutes, and the Mavericks got superb play from their bench as four reserves scored in double figures, led by Tim Hardaway's 18 points on 6 of 13 field goals in 30-plus minutes.
With the game knotted at 112, the Mavs had a chance to win it in regulation. But Reggie Bullock misfired on a three-point attempt as time expired, thus forcing the extra session.
Playing on the second night of a back-to-back, the Nets entered overtime seemingly exhausted and it certainly showed for the most part. Dallas scored the session's first five points and ultimately matched its biggest lead when Bullock connected on a three-point basket to give the Mavs a 123-114 lead with 3:10 remaining.
For Brooklyn, Thursday's setback overshadowed brilliant performances by superstars Kyrie Irving and Kevin Durant, who finished with 39 and 37 points, respectively, for the Nets, who have dropped three consecutive outings since their home win over Toronto October 21.
Royce O'Neale and David Duke Jr. finished with 10 points each Brooklyn, which had only one reserve to score in double figures.
Besides Dončić, Spencer Dinwiddie was the only other starter to score in double figures with 11 points on 4 of 8 shooting in 27-plus minutes for the Mavs, who return to Dallas to begin a five-game homestand starting with visiting Oklahoma City on Saturday night at 7:30 p.m. CST.
Along with Hardaway Jr, Maxi Kleber proved to be the difference maker off the bench for the Mavs, scoring 10 of his 15 points (including 3 of 5 from three-point range) after intermission.
Fellow reserve Christian Wood scored 11 points and Josh Green added 10 for Dallas, which regained control in overtime after squandering a nine-point lead midway through the fourth. — Andre Johnson 
---