Luka Dončić held to season-low 22 points at Washington, Mavs drop second straight outing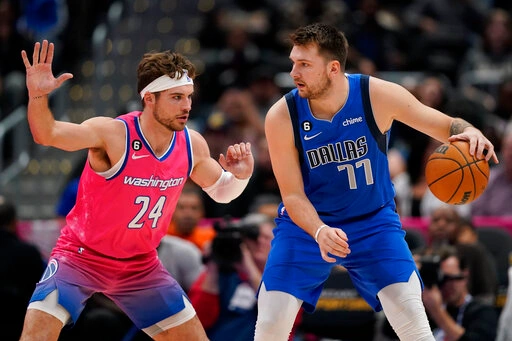 Mavericks superstar Luka Dončić was limited to his lowest point total of the season and the short-handed Wizards got a masterful performance from Kyle Kuzma, whose season-best 36-point outburst helped propel Washington to a 113-105 win Thursday night at Capital One Arena.
Dubbed this year's favorite to win league MVP, Dončić, the NBA's leading scorer, was held to just 22 points on 8-of-21 shooting in 39 minutes, 12 below his season average, and Dallas squandered an early 14-point lead en route to dropping its second consecutive game.
On this night, it was Spencer Dinwiddie who led a seemingly fatigue Mavericks team that was playing the second of a back-to-back. Traded near the All-Star break last year by Washington for Kristaps Porzingis (who also did not play Thursday), Dinwiddie registered a season-high 33 points on 11-of-17 shooting, including 7-of-12 from 3-point range against his former team.
---
---
But that wasn't enough against a Wizard team that seized its second straight win, thanks in large part to a barrage of three-pointers by Kuzma, who turned in his best outing of the season for Washington, which was without Beal. The Wizards' leading scorer (21.6 points), Beal was ruled out for the third consecutive game because of health and safety protocols.
Thursday loss was the Mavs' second straight on the road after Dallas managed four consecutive wins during a five-game homestand.
Ironically, the Mavs (6-5) return to the American Airlines Center to host the Portland Trailblazers Saturday, where they will begin a second five-game homestand and look to erase the memory of its longest winless streak of the season.
Against the Wizards (6-6), who entered Thursday's game on two days rest, Dallas had just three starters to score in double figures and got little production from its bench. Tim Hardaway Jr. was the only reserve to manage double figures with 16 points on 5-of-12 field goals in 28 minutes.
Besides Dinwiddie and Dončić, Dwight Powell was the only other starter to reach double figures with 14 points on 6-of-9 shooting in 26-plus minutes for the Mavs, who shot a frigid 43 percent for the game.
Rui Hachimura scored 23 points, Will Barton added 14, and Daniel Gafford 11 for Washington, which hosts the Utah Jazz Saturday.
Besides Kuzma, Deni Avdija was the only other Wizard to score in double figures with 12 points on 4-of-13 shooting in 32-plus minutes. — Andre Johnson
---