A-B-COOL POINTS: Texas kid entrepreneurs Jaden and JaBraden make authorship debut with release of 'The Adventures Of Bedtime Alphabets With Jay & JuJu'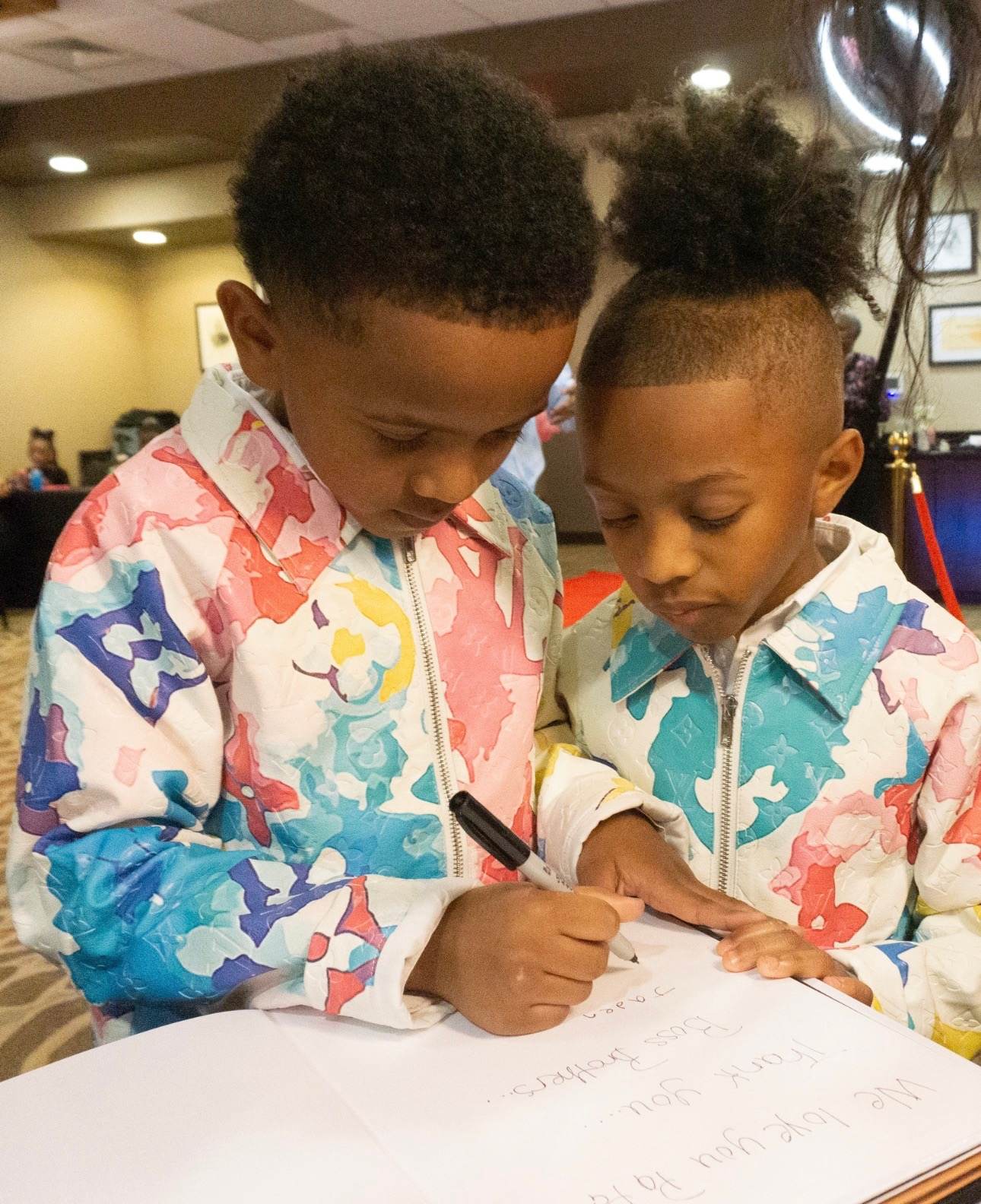 ---
Train up a child in the way he should go, and when he is old, he will not depart from it. (Proverbs 22:6 NKJV)
---
ALL-STAR TEAM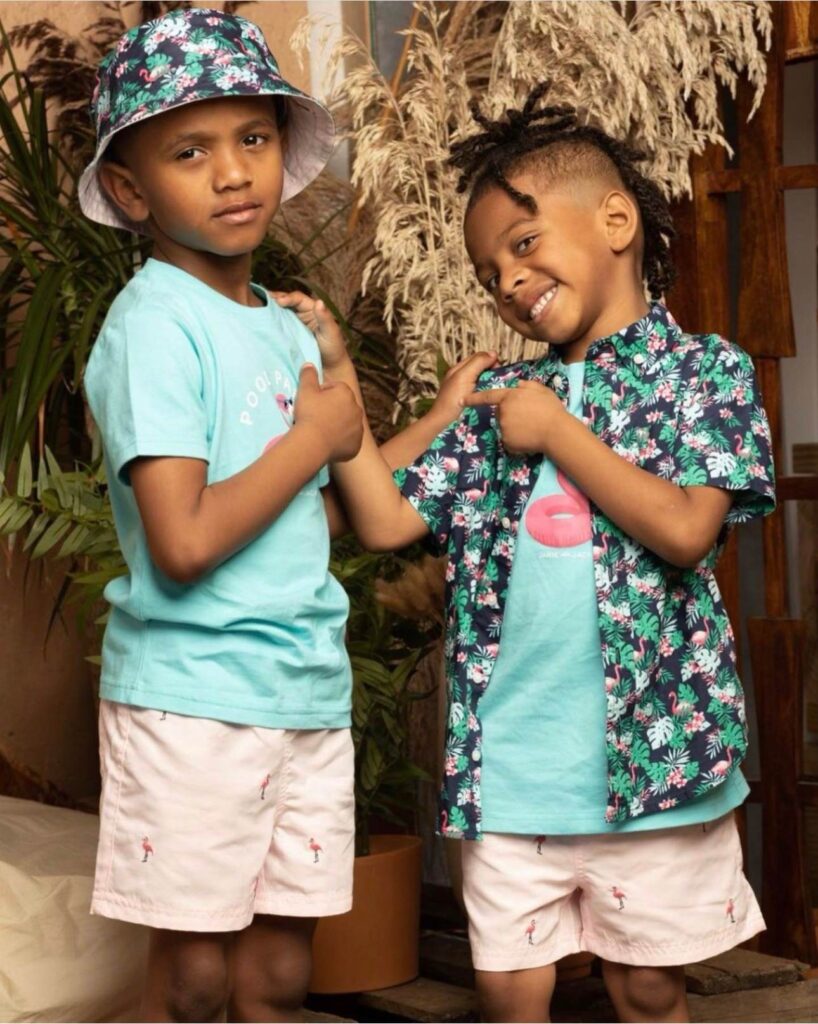 ---
To her distinctly unique credit, Letitia Scott-Jackson is going to great lengths to keeping families connected.
Especially her own.
Consider, for instance, how Scott Jackson and her husband, Fred, are diligently helping their grandsons, Jaden and Jabraden Linnear, to become better versions of themselves.
As if starting a business wasn't enough to turn heads, Jaden and Jabraden have made their ceremonious authorship debuts.
---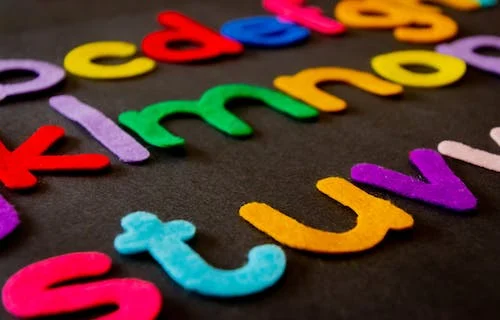 ---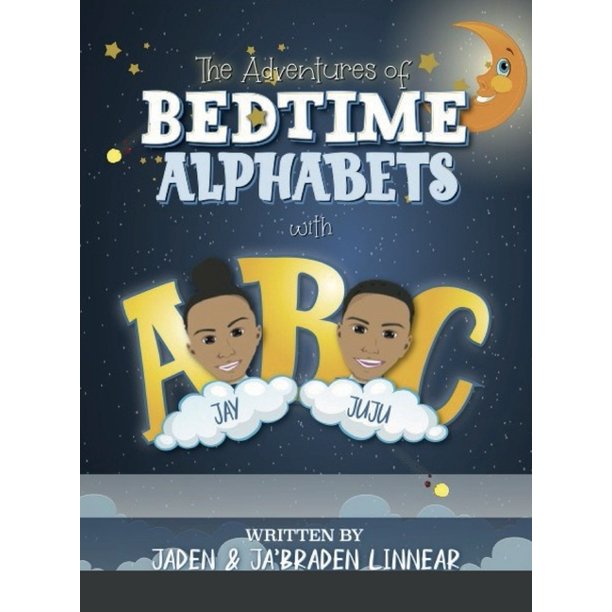 ---
The two brothers are the masterminds behind The Adventures Of Bedtime Alphabets with Jay & JuJu, their highly-anticipated book that made its official release in October 2022.
Six-year-old Jaden and eight-year-old Jabraden will conduct a book signing February 4, their grandparents told Making Headline News this week.
The book signing will take from 1-4 p.m. CST at Music City Mall Lewisville, located at 2401 S Stemmons Freeway.
---
SAVE THE DATE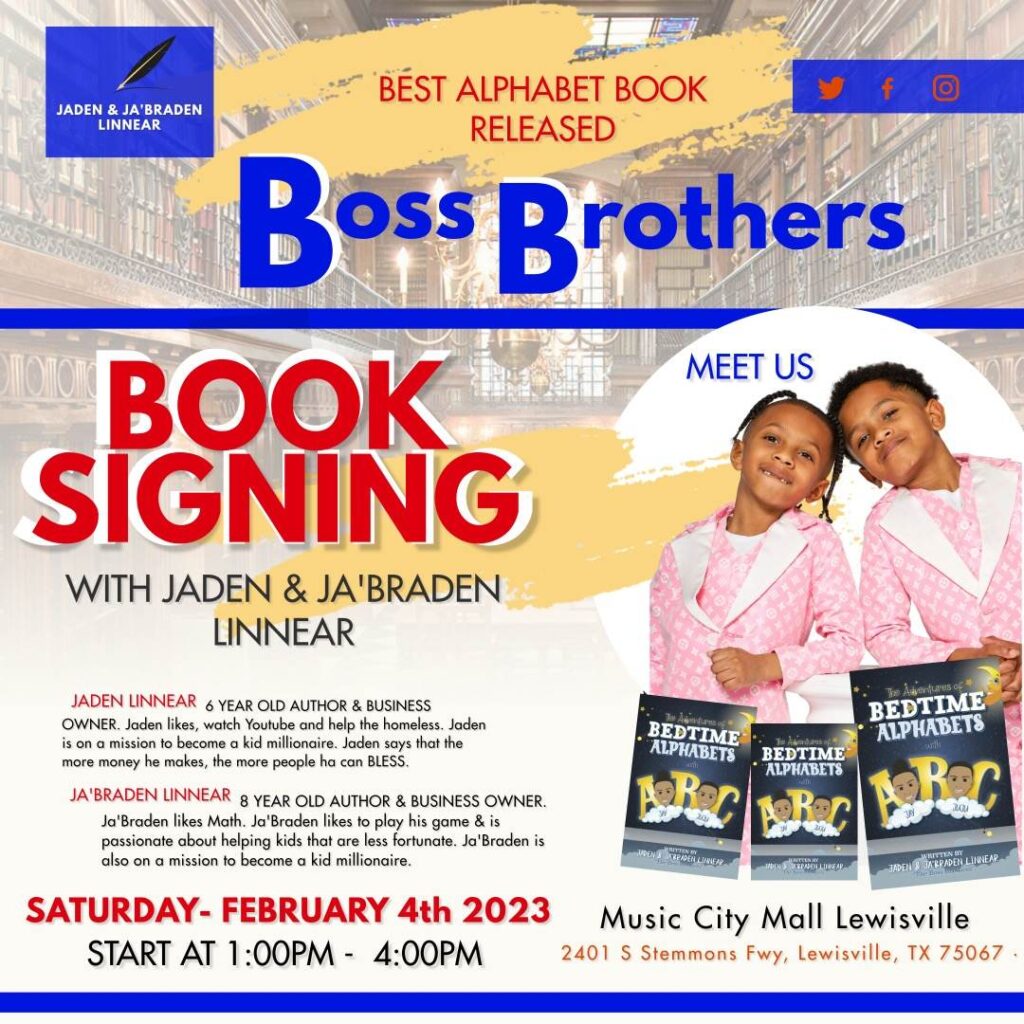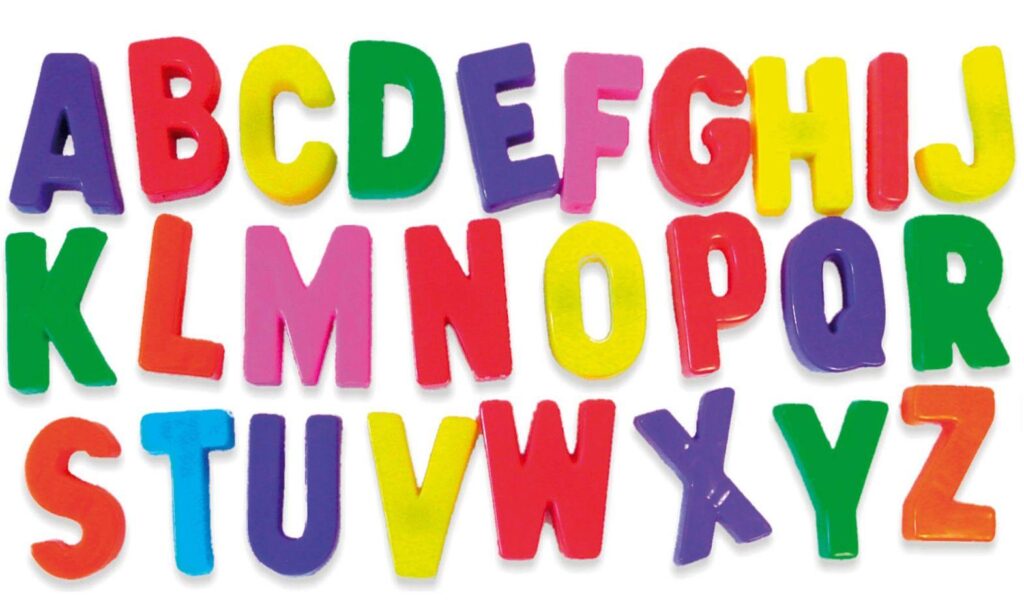 ---
Brothers who are a quest to become "kid millionaires," Jaden and Jabraden's The Adventures Of Bedtime Alphabets with Jay & JuJu is an informative, educational 30-page written work that is centered largely on helping like-minded kids explore their alphabet adventures with the author tandem who are suitably known as "Kid Bosses."
"Learn your ABC'S with Jaden & JaBraden Linnear," said an Amazon spokesperson for the brothers' The Adventures Of Bedtime Alphabets.
As Scott Jackson explained, Jaden and Jabraden's The Adventures Of Bedtime Alphabets with Jay & JuJu has become a resourceful and effective educational — and spiritually — tool, particularly for the peers of her grandsons.
---
NEED NATIONAL MEDIA EXPOSURE? CALL TODAY

: 

901.690.6587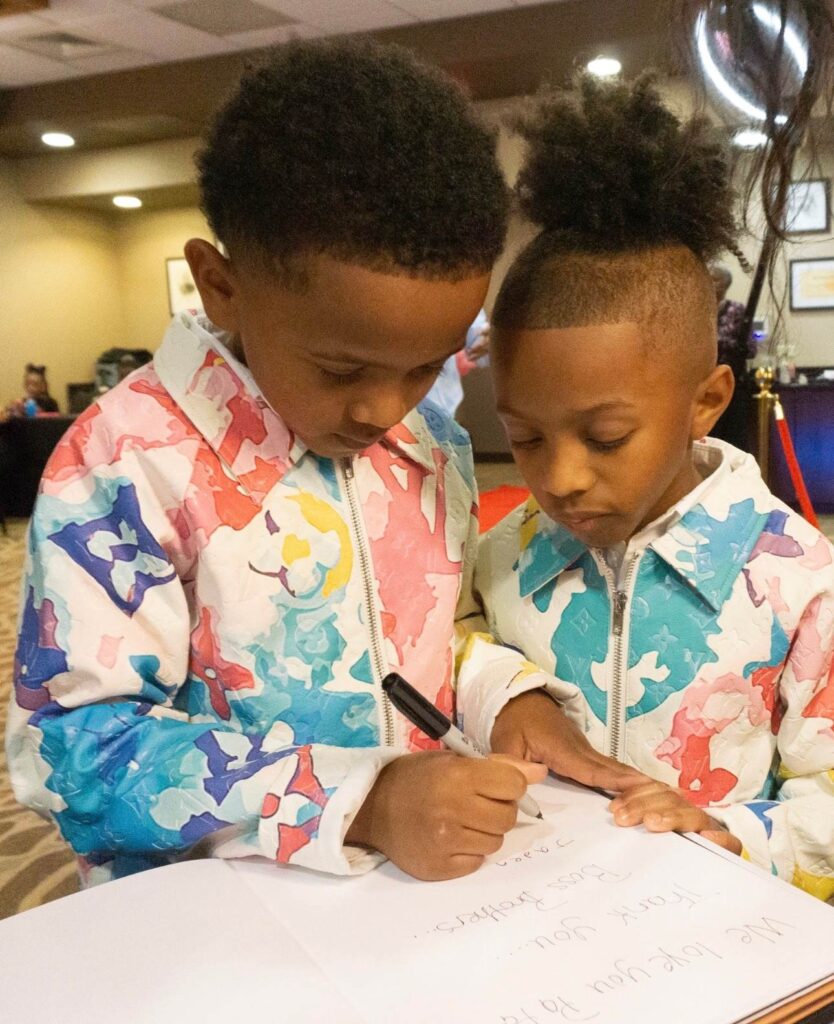 ---
"They want to teach little kids their ABC's as well as the 'Now I lay me down to sleep prayer,'" Scott Jackson, the founder of Dallas/Fort Worth-based Keeping Families Connected nonprofit organization, told MHN.
Interestingly enough, Scott Jackson credits her husband for routinely empowering Jaden and Jabraden of  the importance of making wise financial decisions, a trend that given way to the young businessmen-turned-authors becoming innovative by spearheading a new book.
---
RISING CELEBS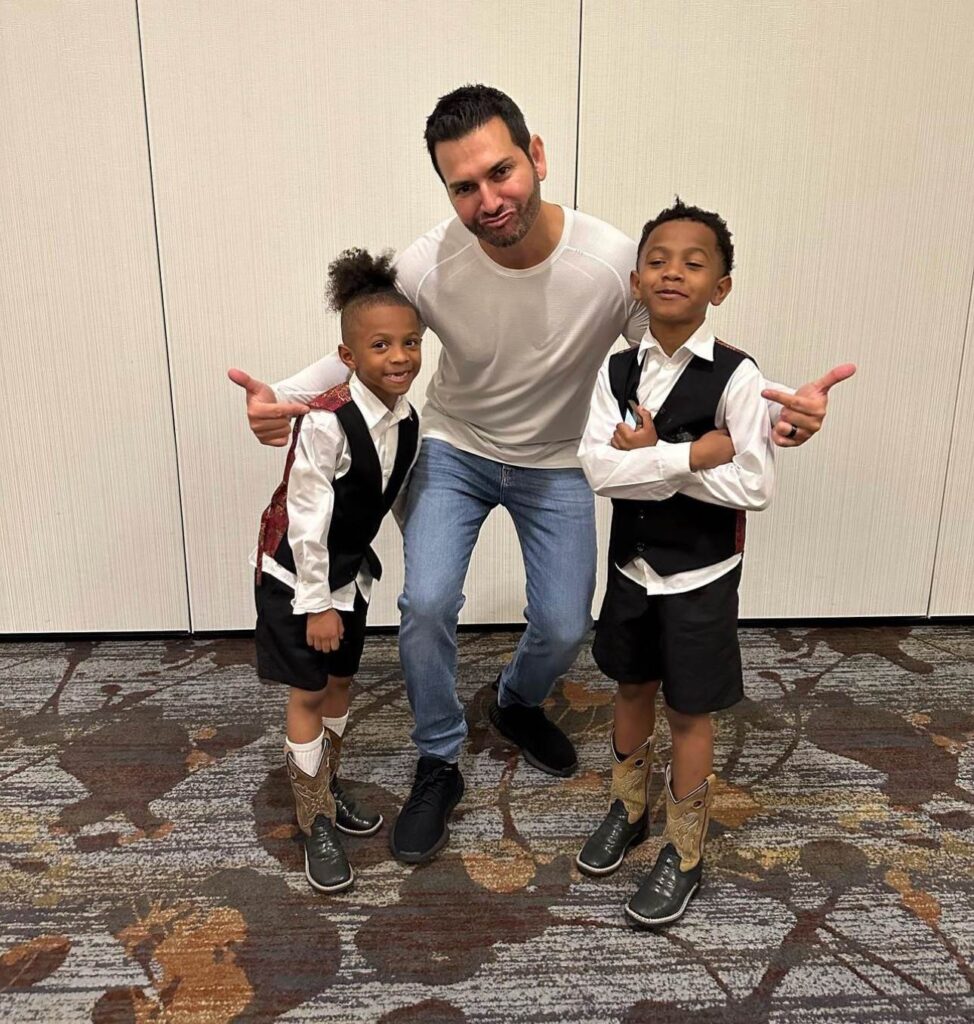 ---
"The reason they published the book is because my king — my hubby — teaches them about having multiple streams of income,

Scott Jackson said

. "And they say that they want to become kid millionaires."
---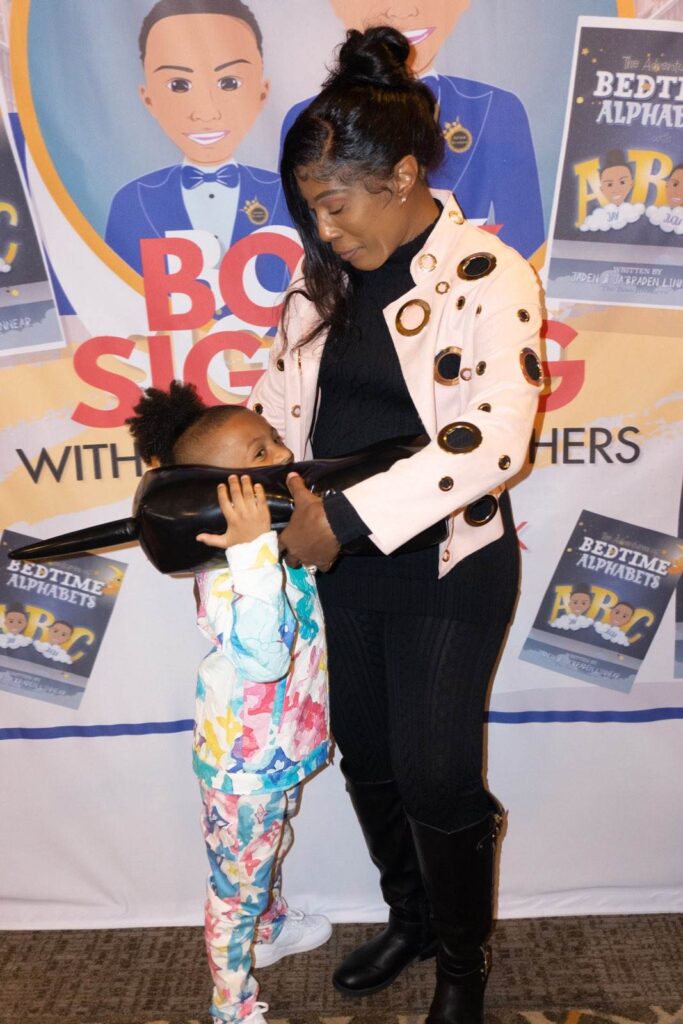 ---
To Jaden & JaBraden's credit, they certainly seem on the right track to making that ambition a reality, something by which their grandparents don't take lightly.
"They are learning the stock market and all," Scott Jackson said. "Then Jaden studies wealthy people."
Among those wealthy personalities Jaden's routinely follows is Elon Musk, the renowned business magnate and investor who is the product architect and owner of Twitter, Inc.
"I pray that I can get him to see Elon Musk one day," Scott Jackson said. "He's infatuated with him."
---
DYNAMIC DUO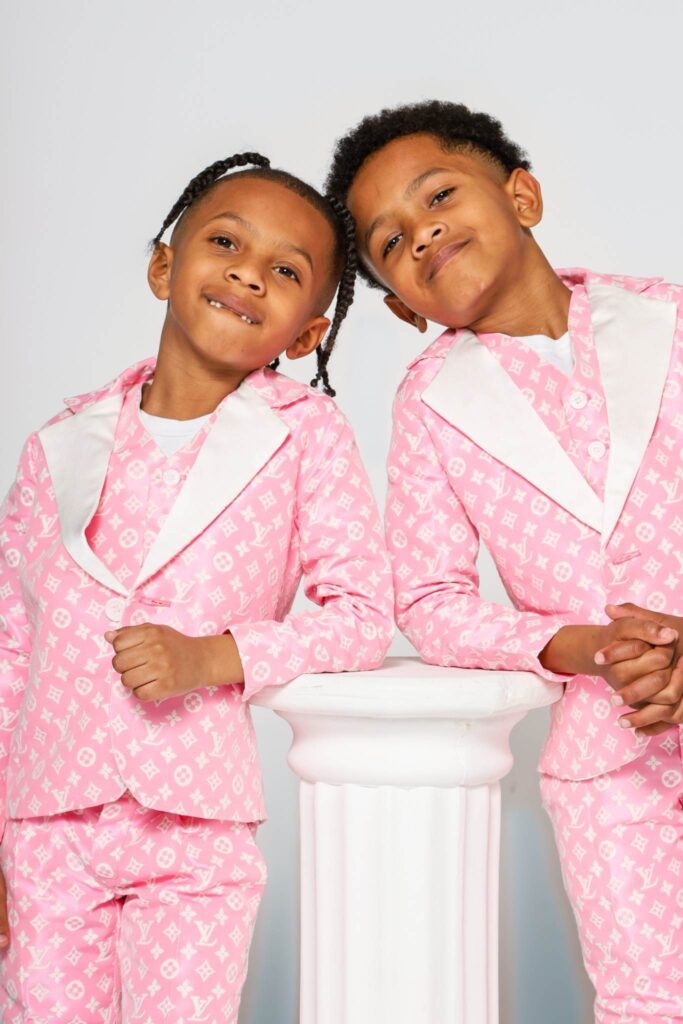 ---
Also, Scott Jackson said her grandsons will be training this summer for film and acting with Adrian R'Mante, the prominent acting coach who is best known for his role as Esteban Julio Ricardo Montoya de la Rosa Ramírez in the Disney Channel Original Series, The Suite Life of Zack & Cody.
First-time published authors who own a bow tie and necktie business, more than anything, the Jacksons are proud their grandsons are heeding the wise counsel of their loved ones.
"My husband and I are extremely proud of them," Scott Jackson said. "He's teaching them about economics of the world, trading etc.
In another development:
Scott Jackson said plans are in the works to expand Keeping Families Connected, her credible nonprofit organization she established approximately eight years ago.
Additional information is forthcoming.
The strategic mission of Keeping Families Connected is centered in large part on enriching the lives of young people, most notably through events, as well as by way of providing educational resources, mentoring, and counseling services.
"Yes, we are working on an expansion of KFC and we are on a mission to become a household name," Scott Jackson said. "I will be going into the prisons to teach principles and purpose."
---
A RELATED STORY
Texas author Letitia Scott-Jackson's newly-produced book selling by unprecedented numbers
---
For more information about Jaden & JaBraden Linnear, connect with Letitia Scott-Jackson of Keeping Families Connected via Facebook at:  https://www.facebook.com/tetiascott. Also, send email to: keepingfamiliesconnected2015@yahoo.com.
---
​CONNECT WITH THIS AWARD-WINNING JOURNALIST FOR MEDIA EXPOSURE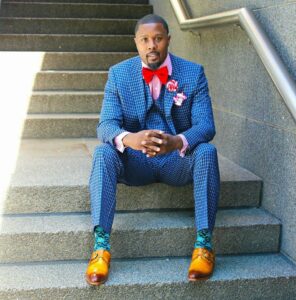 WHAT'S YOUR STORY? If you are an entrepreneur, business owner, producer, author, athlete, musician, barber, life coach, motivational speaker, cosmetologist, tax preparer, model, or pastor/minister who is seeking exposure and would like to share your story with an in-depth news feature, call Reporter Andre Johnson at 901-690-6587 or Facebook message him under "Andre T. Johnson" for details.
Andre Johnson is the award-winning Founder and Publisher for Making Headline News. A 2000 graduate of the University of Memphis School of Journalism and a former staff reporter of sports for the Memphis Commercial Appeal newspaper, Johnson covers the NBA Southwest Division from Dallas, Texas. To reach Johnson, send email to makingheadlinenews@gmail.com or to memphisgraduate@yahoo.com. Also, follow him on Twitter @AJ_Journalist or Instagram at @makingheadlinenews.
---
ADVERTISE WITH US