JOY COMES IN THE MORNING: Atlanta's Radiance L. Rose seeks godly wisdom, makes her ceremonious authorship debut in Summer 2022
---
If any of you lacks wisdom, you should ask God, who gives generously to all without finding fault, and it will be given to you. But when you ask, you must believe and not doubt, because the one who doubts is like a wave of the sea, blown and tossed by the wind; Blessed is the one who perseveres under trial because, having stood the test, that person will receive the crown of life that the Lord has promised to those who love him. (James 1:5-6; 12 NIV)
---
RAI OF

SUN

SHINE 
---
Because of whom she is and because of where God is taking her, Dr. Radiance L. Rose had no choice, really, but to view from God's perspective her retirement from the military.
"God gave me the vision to write this book in 2021, a year before I retired from the U.S. Air Force," Dr. Rose, during a weekend interview with Making Headline News, said of her quest to become a first-time author. "However, I delayed penning the book due to transitioning and the uncertainty of what vulnerability could bring in my direction. However, I reminded myself that retirement meant freedom…the freedom that I fought to protect for over two decades, but I was never able to fully explore. My retirement symbolizes rebirth, restoration, and revelation, and my book is one of the keys that unlocks the door."
The book to which Dr. Rose is alluding is the one that ceremoniously jumpstarted her authorship debut: Joy Comes In The Morning, Dr. Vernessa Blackwell's highly-anticipated anthology that is comprised of 90 co-authors and will officially debut in June 2022.
A retired 22-year combat veteran of the United States Air Force who's suitably known as "Dr. Rai Rose," Dr. Rose has become a fixture for being a transformational leader, entrepreneur, coach, Human Rights advocate, and educator, one who possesses the essential skills in leadership and character development at various levels of management.
---
---
This beloved Atlanta-based empowerment personality can now add the label of author to her notable entrepreneurial repertoire.
Much to her delight, Dr. Rose's authorship debut couldn't have come at a better time, considering Joy Comes In The Morning has emerged as an Amazon No. 1 Bestseller.
"The single, most underlying reason I chose to produce the book is healing." Dr. Rose told MHN. "Our lives are physical manifestations of God's wonderment and grace. Like many others, I have weathered and survived life's most raging storms. Our words have power, and everyone has a God-given ability to heal others by sharing their testimonies — or stories — and experiences. Although sharing experiences isn't always easy, it is necessary for growth and the healing process."
---
JOYFUL BEGINNING
---
Having become the beneficiary of an array of favorable feedback since word spread that she become an author, Dr. Rose emphasized Joy Comes In The Morning, by all accounts, aligns with her God-orchestrated destiny.
"I believe that God created me to be a beacon of light and hope," Dr. Rose explained. "Through sharing my life's experiences, I have become a vessel in the form of a bridge that helps others face and overcome their trauma, past lives, and self-defeating thoughts in order to achieve their fullest potential."
Most importantly, Dr. Rose acknowledged that expressing her life-altering truths through writing has enabled her to cope with life without arguably her grandest supporter: her mother, who passed away during her early years in the military.
---
NEED NATIONAL MEDIA EXPOSURE? CALL TODAY

: 901.690.6587
---
"I'm a survivor," said Dr. Rose, adding that her second book is forthcoming, this one confronting trauma. "I lost my mother at a young age due to a terminal illness. Also, I've experienced a tremendous amount of trauma, death, heartache, and loss. I beat cancer twice and stroke, among many other things. Seeking God's Face through all of my trials and tribulations and going to therapy is what kept me."
---
---
Faith, Dr. Rose, said, is what undoubtedly fueled her fervent desire to keep on, keeping on.
"Philippians 4:13 has been my guide," Dr. Rose says without hesitation. "I am committed to transforming my community through transparency and becoming a beacon of and hope for all. God is real. Healing takes time and courage, but everyone can heal. Scars represent pages in your story, and they don't last forever. Indeed, joy comes in the morning."
Which, after all, is what typically happens when one views life from God's perspective.
---
MAKING HEADLINE NEWS SALUTES
DR. ROSE
---
For more information about Atlanta Author, Dr. Radiance L. Rose, to inquire about her book or to inquire about a public appearance or speaking engagement, call 404-624-6007 or connect with her via social media at Facebook: https://www.facebook.com/laveenaj. Also, send email to: Email:

authorradiancelrose@gmail.com

.
---
​CONNECT WITH THIS AWARD-WINNING JOURNALIST FOR MEDIA EXPOSURE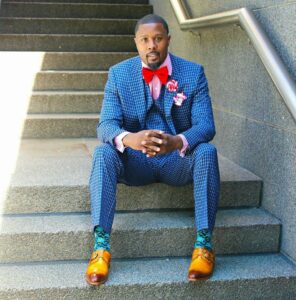 WHAT'S YOUR STORY? If you are an entrepreneur, business owner, producer, author, athlete, musician, barber, life coach, motivational speaker, cosmetologist, tax preparer, model, or pastor/minister who is seeking exposure and would like to share your story with an in-depth news feature, call Reporter Andre Johnson at 901-690-6587 or Facebook message him under "Andre T. Johnson" for details.
Andre Johnson is the award-winning Founder and Publisher for Making Headline News. A 2000 graduate of the University of Memphis School of Journalism and a former staff reporter of sports for the Memphis Commercial Appeal newspaper, Johnson covers the NBA Southwest Division from Dallas, Texas. To reach Johnson, send email to makingheadlinenews@gmail.com or to memphisgraduate@yahoo.com. Also, follow him on Twitter @AJ_Journalist or Instagram at @makingheadlinenews.
---
ADVERTISE WITH US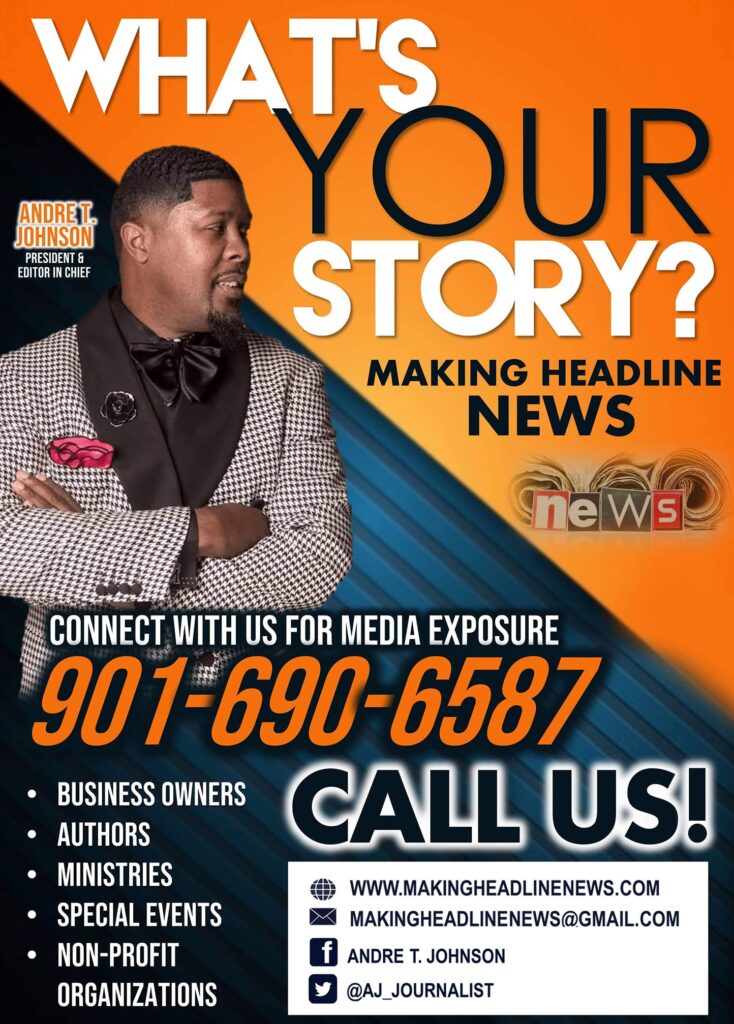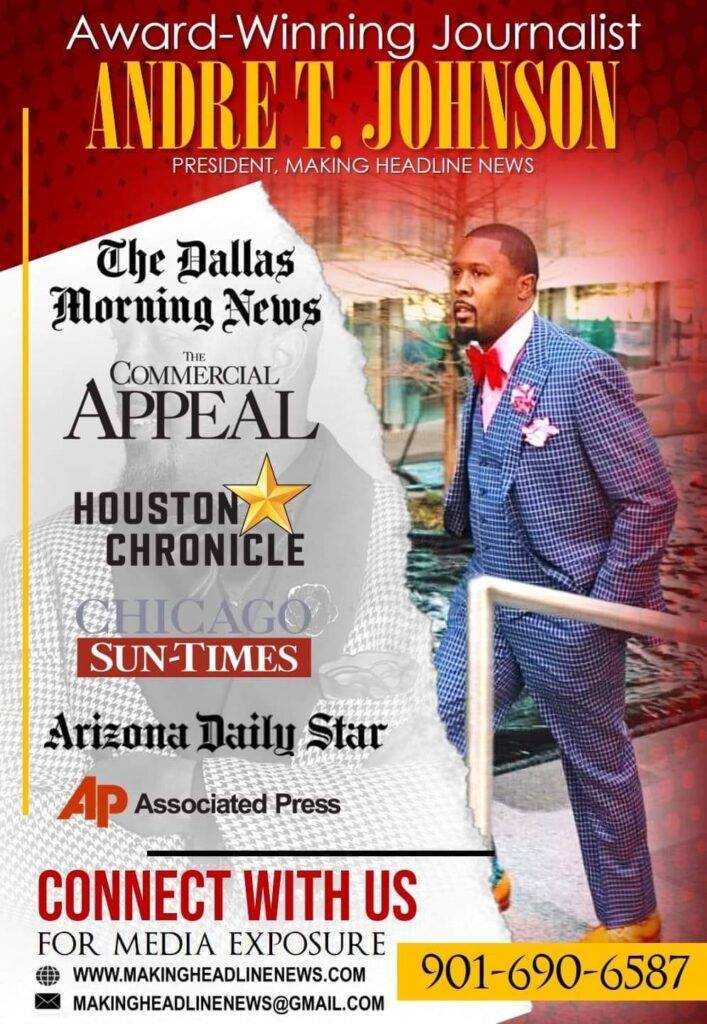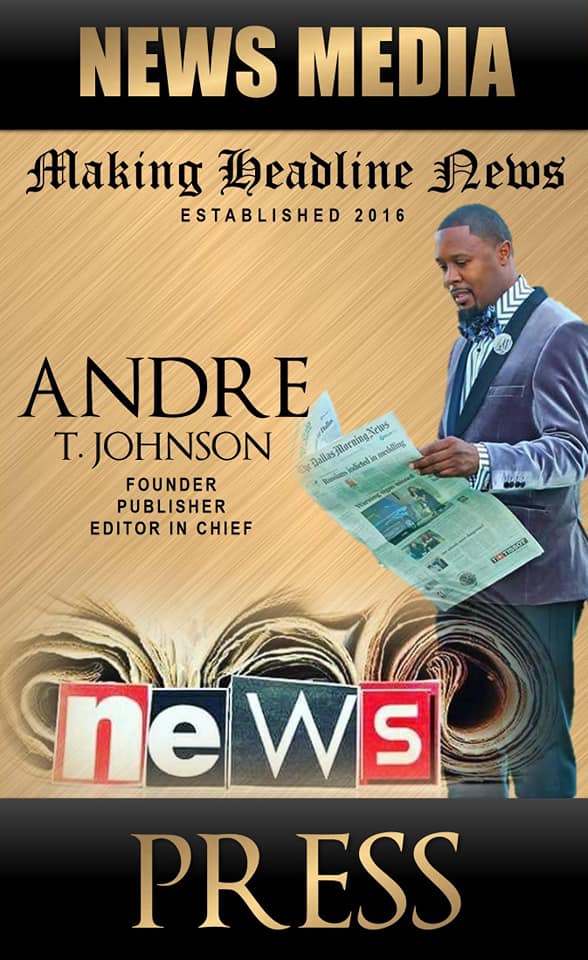 ---